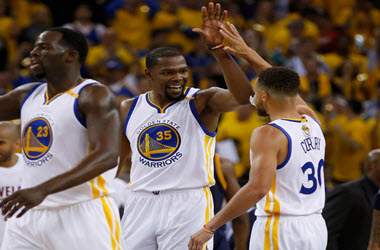 The Golden State Warriors and the Cleveland Cavaliers kicked off the NBA finals last night, and for the Warriors, they managed to defeat the Cav's and withstand the skills of LeBron James 124-114.
Golden States Stephen Curry bagged 29 points and succeeded in coming out on top after a night that saw the brilliance of LeBron James scoring 51 points after capitalising on a mistake by J.R Smith that sent the game went into overtime.
As the game came to a close, it saw Klay Thompson, Steve Curry and James get into a scuffle. Then seconds later, Golden States Draymond Green and the Cleveland's Tristian Thompson got tangled in what saw Thompson being ejected from the game with less than 3 seconds left to go before the clock ran out.
As regulation time ticked down, LeBron James was starting to celebrate thinking the Cav's had won game 1 only to watch in disbelieve with less than 5 seconds remaining as George Hill sunk a free throw. His second missed the net, was picked up by J.R Smith who then mistakenly went to half-court thinking the Cleveland had the lead only to learn otherwise.
Kevin Durant finishes with 26 PTS, 9 REB, 6 AST in the @warriors Game 1 victory at home!#DubNation #NBAFinals pic.twitter.com/7yyASlUsRB

— NBA (@NBA) June 1, 2018
Commenting on the play, J.R. Smith said,
"I just thought we were going to call a timeout. Because I got the rebound, I'm pretty sure I couldn't shoot it over KD. If I thought we were ahead, I would have just held on to the ball so they could foul me. Clearly that wasn't the case."
Instead of the win, it saw Game 1 going into overtime. Both teams played hard but for Kevin Durant, he said people do dumb stuff on the court stating,
"I don't know what was going through J.R.'s head. He made a great rebound and gave them an opportunity to win the basketball game."
Game 2 of the NBA Finals is set to get underway on Sunday night. The Warriors have failed to win 18 of their 19 games in the post-season at home. For the Cleveland Cavaliers – that is good news.
LeBron James may have been disappointed with seeing Game 1 stolen from underneath the Cav's but in post-game interviews said,
"We've got to move on. This game is over and done with. We had opportunities."
The late fourth-quarter foul on James was the turning point that gave the Warriors the advantage. The three-pointer was over-turned, and Durant was awarded two free throws that resulted in a tied game and with seconds remaining, overtime.
James knew it was a game-changer saying,
"I read that play as well as I've read any play in my career, maybe in my life.
Head coach of the Cleveland Cavaliers, Ty Lue, was disgusted to see Game 1 lost under these circumstances. Commenting on the overturned call, Lue said,
"It's never been done, ever in the history of the game. And then tonight in the finals on the biggest stage, when our team played well, played our (butt) off, man, it ain't right."
Lue added after the way the LeBron played last night, "to come up robbed, it's just not right." Game 2 will be a chance for Cleveland to get their revenge for what they see as rightfully theirs after bad calls cost them the game, at least in their eyes. Yet, it is the playoffs and passion always runs high, but focus and making plays is what will decide who wins and who loses.