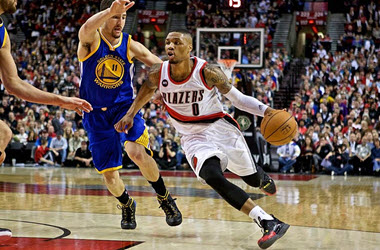 The Golden State Warriors knew if they wanted to earn it, they would have to play at the top of their game to bring an end to the losing streak that lasted more than a week. Kevin Durant knew it, and his performance showed the Warriors desire to turn it around.
Durant was on top of the scoring list for the Warriors as they took on the Portland Trail Blazers Klay Thompson was not far behind with 31 points as they led Golden State to a 125-97 victory over the Trailblazers.
Durant doesn't believe in fairytales saying that it will be over when it is over. The four game losing streak was the fifth longest since February 2013 when the Warriors lost six straight games. He added, in post-game media interviews that,
"It's not going to just be over unless we got out there and impose our will on the basketball court like we did tonight. And it's not going to just happen for us tomorrow. We've got to play with that same passion and energy that we played with tonight."
Durant's night including seven rebounds and eight assists. Thompson was equally impressive hitting five shots in his first seven. Stephen Curry, the two time MVP, the night off after a car accident earlier in the day, and Draymond Green remained on the bench due to a sprained right toe.
MLG Highlights
Portland's Damian Lillard scored 23 points and earned eight assists. Jusuf Nurkic scored 22 points and also racked up eight rebounds while CJ McCollum had five assists and 19 points.
After a slow start in the first quarter, Golden State and Portland finished the first half tied 24-24, but the Warriors came out strong in the second scoring 22 points to lead Portland 46-32 at the midway point. Durant scored a three pointer to increase that lead to 59-40 before the end of the second.
Playing for Stephen Curry was Quinn Cook, who scored 19 points, five of which were the result of three pointers. The Warriors showed impressive stats last night going 17 for 32 in the deep. It was one that Klay Thompson was happy to see stating that,
"53 per cent is a welcome sight after the week we had. You saw in our energy tonight how much we wanted this win."
Also having a solid night's performance was Shaun Livingston, who scored 11 points in 16 minutes of court time. Jordon Bell bagged five points, earned seven assists and had five rebounds. That is impressive considering he has not been a regular this season.
Golden State needed this win after losing 123-95 to Oklahoma City and with it, hope to build on the momentum and remain at the top of the Western Conference. The Warriors next play the Orlando Magic on Monday and Toronto Raptors on Thursday. Interested in betting on the upcoming games? Why not visit our Basketball Betting page, where you will find a list of highly reputable and recommended sports betting sites that offer NBA action, and in the process, find excellent signup bonuses that will increase your bankroll before you place your first bet. Register today and take advantage of these offers.