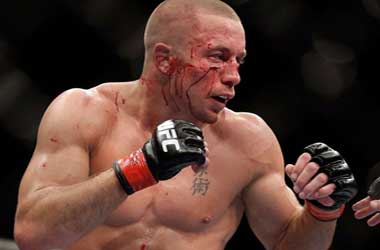 George St. Pierre or 'Rush' as he is fondly referred to by his MMA fans did Canada proud when he came out of a four year retirement break and won the UFC Middleweight championship on his return, defeating Michael Bisping by a rear naked choke.
GSP had confirmed before his title fight that he had signed a contract with the UFC stating that if he won the belt, it would be mandatory for him to defend the UFC Middleweight belt against the number one contender.
Australia's Robert Whittaker is the interim champion and the number one contender at middleweight and he has called out GSP to fight him in Australia at UFC 221 which is scheduled to take place in February 2018 and will be held in Perth.
GSP did not respond to the call out and that prompted Whittaker to send out another tweet and offer to fight GSP at home in Montreal, Canada but even that did not get GSP to respond.
Middleweight Title Fight GSP vs WHITTAKER Montreal @danawhite @GeorgesStPierre @ufc

— Robert Whittaker (@robwhittakermma) November 13, 2017
MMA WORLD
UFC welterweight champion Tyron Woodley has also called out GSP and asked him to stop running and get back to his original weightclass of 170lbs and sign a contract to fight him. GSP was the UFC welterweight champion before he decided to retire and take a four year break. GSP will most likely come down to 170lbs as he appeared a bit sluggish with the extra weight when he fought Bisping but it is hard to tell what GSP will do next.
Rush does not seem to be in any hurry to get back into the Octagon nor divulge his plans for the next fight. He has so far been happy to maintain his silence and wants to take some time off to recover. However there are speculations that GSP might never step into the Octagon again and once again go into retirement. GSP has neither confirmed nor denied these rumours.
Many expected GSP to call out Conor McGregor after his victory over Michael Bisping and set up a super fight but GSP did not do that nor has he expressed any intention to fight the UFC's biggest star. While GSP continues to remain silent, there are a number of UFC and non-UFC fighters who continue to call him out.

Octagon Blog: #BREAKING @PerezHilton "For $25 million @Benaskren will fight vs @GeorgesStPierre in the @ufc "! @MmaAthletes https://t.co/YQokP9Kw1U

— Octagon Blog (@octagonblog) November 26, 2017
Ben Askren, the former ONE Championship and Bellator welterweight champion tweeted that he would consider fighting GSP in Montreal for free, just to prove that he is the better fighter.
Wouldn't cost that much. I might just do it for fun and the ability to say I told you so… https://t.co/wxpU09HopD

— Ben Askren (@Benaskren) November 26, 2017