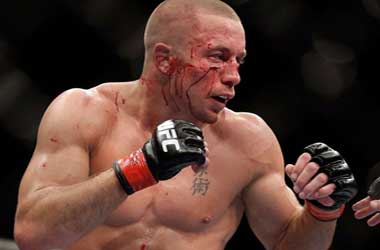 George St. Pierre (GSP) created history on November 4th at Madison Square Garden (MSG) in New York by defeating UFC middleweight champion Michael Bisping by submission. Canadian Prime Minister Justin Trudeau took to Twitter to congratulate GSP and thanked him for making Canada proud once again.
GSP came out of retirement after a four year hiatus and moved up a weightclass to challenge Bisping for the belt and there were many who doubted the legendary Canadian fighter. Bisping had talked a lot of trash in the lead up to the fight and said that GSP would be the smallest middleweight that he would have to face in his long and illustrious career. However on the night, GSP looked the bigger of the two and was certainly the faster of the two. GSP won the first round comfortably as he landed more strikes and took Bisping down.
Félicitations Georges! Like you never left. You've made us proud once again. 🇨🇦 https://t.co/eK1GA5w2og

— Justin Trudeau (@JustinTrudeau) November 5, 2017
GSP looked like he started to run out of gas in the second round as he wasn't used to fighting at this weight and the four year break from fighting did not do a lot of good for his cardio. Bisping started to find his timing as GSP started to slow down and it would have been interesting to see what would have happened had the fight made it to the championship rounds. However that never happened as in round 3, GSP stunned Bisping with a left hook that sent him down to the canvas.
Fight Focus
GSP wasted no time in jumping on him and hitting him a number of times with his elbows but Bisping would not quit. GSP used his experience to set up a nice trap by giving the Brit a little breathing space which he used to try to get up. When he exposed his neck, GSP took his back and put him in a rear-naked- choke and there was no way that Bisping was going to get out of that. Bisping did not tap and the referee had to stop the fight as Bisping lost consciousness.
You can say what you want about Michael Bisping but he is one of the toughest fighters to have ever stepped into the cage. GSP was full of respect for Michael Bisping and said that he was the toughest opponent that he had faced in his career. GSP will now take a break and then prepare to defend his belt against Robert Whittaker, who is the number one contender.