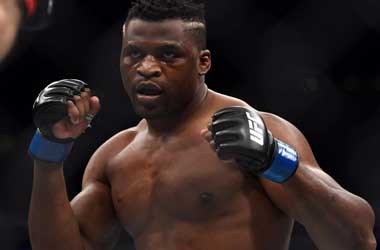 UFC 215 is less than three weeks away and Canadian fans were looking forward to see some of the biggest UFC stars live in the Octagon.
UFC 215 will be headlined by flyweight champion Demetrious Johnson who is looking to create a record for the most number of successful title defenses when he takes on Ray Borg. The co-main event is a fight between UFC women's bantamweight champion Amanda Nunes vs. Valentina Shevchenko.
One of the top fights on the main card that Canadian fans were excited about was the Junior Dos Santos (JDS) vs. Francis Ngannou fight. JDS is a former UFC heavyweight champion whose last fight was against the current champion Stipe Miocic and it did not end well for JDS who was KO'd.
Francis Ngannou is one of the top heavyweight prospects in the UFC and has made a rapid rise in the rankings after beating the likes of Andrei Arlovski and Anthony Hamilton. If Ngannou had to beat JDS at Rogers Place in Edmonton on September 9, it was highly likely that he would have secured a title shot. However Ngannou will not be able to fight JDS after USADA highlighted a potential anti-doping violation for JDS.
MMANewsFeed
In a statement, JDS representative said
Junior tested positive for a substance called Hydrochlorothiazide, which is a diuretic and is banned by USADA due to its use as a masking agent. We do not know where this substance came from. Junior has had his blood and urine randomly tested many times and has never once tested positive for a banned substance
Ngannou was understandably very upset on learning that JDS had been pulled from the card by the UFC. He took to Twitter to say that he was very, very angry to learn that he had no opponent for UFC 215 but appeared to have cooled down after JDS called him and extended a personal apology.
I'm very very angry!!!

Almost done with training camp and they just announced that my opponent is out for #ufc215

— Francis NGannou (@francis_ngannou) 18 August 2017
Almost all heavyweight fighters in top 10 are busy preparing for fights or recovering from recent fights, which means that it is going to be exceptionally hard for the UFC to find a top ranked opponent for Ngannou.
The Cameron born and French based fighter has called out Alistair Overeem for a potential fight but so far there has been no response from the Reem who fought as recent as UFC 213. There is a strong possibility that the UFC might withdraw Ngannou from UFC 215, if they cannot find a suitable opponent.