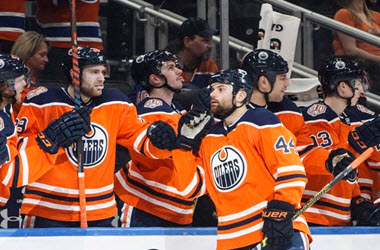 The Edmonton Oilers made quick work of the Buffalo Sabres on Monday night with several key players bring an end to scoring slumps as Edmonton brought fans to their feet with a 7-2 victory.
Two of those ending slumps was Edmonton Oilers Zack Kassian, and Milan Lucic, who respectively had only scored two in the season until last night. Now both sit at four goals as each scored twice last night in what was a disaster for Buffalo.
Milan Lucic commented that it felt good to score twice last night but that it was more important to earn a win as a team. Lucic added,
"I'm not even going to go into 2018, there is lots to play for in 2019 to get ourselves back in the mix and now it is about stringing a few wins together moving forward."
Kassian also was pleased with his overall performance and that of the team saying it was nice to get two goals.
"I don't think I have ever had a stretch where I had gone 40-plus games and had only two goals before. It is nice to score goals, it's the National Hockey League. Hopefully the floodgates open now."
Leon Draisaiti, Connor McDavid and Ryan Nugent-Hopkins each scored one goal last night, and assists were handed to Tobias Rieder, Kyle Brodziak, Caleb Jones, Mikko Koskinen, Adam Larsson, Darnell Nurse, McDavid and Nugent- Hopkins.
Sportsnet
Evan Rodrigues and Casey Mittlestadt scored for the Buffalo Sabres, with Rasmus Dahlin, Rasmus Ristolainen, Conor Sheary and Vladmir Sobotka earning assists. Commenting on the loss, Jack Eichel, captain of the Buffalo Sabres said,
"It seems like our mistakes right now, every single one ends up in our net. You know you're going to make mistakes over the course of the game and the magnitude of the mistakes are probably too big. It's frustrating. It's a rough patch for our group right now. We have to find a way out of it and we have to stick together."
The Sabres, who were playing the first of a five game road trip, were first to score last night when Casey Mittlestadt put one past Mikko Koskinen with a quick shot from the outside and into the top right corner. However, a few minutes later, Edmonton's Zack Kassian earned his first of the night after coming hard down the center with Kyle Brodziak, who fired off a shot past Carter Hutton to tie it 1-1. It was the beginning of what was to come as less than a minute later the Oilers took the lead after a deflected shot by Ryan Nugent-Hopkins made it past Hutton.
Evan Rodrigues made it 3-2 at the 8:57 of the first bring Buffalo to within one, but thereafter, Buffalo was on the defensive after Edmonton took control with a constant stream of capitalised scoring opportunities. Hutton was pulled early in the first and replaced by Linus Ullmark, but that changed little for the Sabres as the onslaught continued. Connor McDavid made it 4-2 less than 30 seconds into the second while on a breakaway.
Milan Lucic intercepted a pass by Buffalo's defensemen were caught not paying attention sending a wicked wrist shot to score his first of two, scoring his second at 16;10 of the third period. That put Edmonton up 6-2 before Leon Draisaiti made it 7-2 after catching a Nugent-Hopkins rebound.
Edmonton and Buffalo both have a few days off before the Oilers head to Vancouver to play the Canucks and the Sabres continue with their five game road trip landing on Calgary to take on the Flames. Interesting in betting on sports? Why not register with one of our top-rated online NHL sportsbooks and take advantage of the generous signup bonuses on offer. Register today!