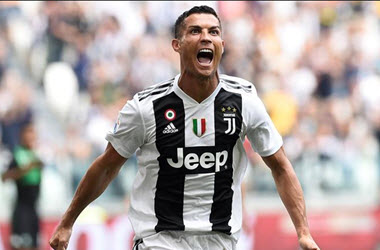 Cristiano Ronaldo's first goal for Juventus could not have been easier if he asked for it. It may have taken the former Real Madrid player almost 320 minutes, but when it came, it was not one of his legendary goals, but a simple tap in, thanks to being in the right place at the right time.
The goal seemed to give Cristiano Ronaldo the charge he needed, and it wasn't long before he scored his second goal to lead Juventus to a 2-1 win over Sassuolo on Sunday. Sunday was only Ronaldo's fourth game with Juventus, and clearly, the star forward has put all reservations behind him as he settles in with his new team.
The trade from Real Madrid to Juventus saw the Italian club paying $131.5 million to acquire Cristiano, and it appears the investment is starting to pay off. After his goal, in traditional style, Ronaldo stretched his arms and ran towards the corner flag in celebration while teammates rushed over to congratulate him.
In his first few matches with Juventus, Ronaldo missed several solid scoring chances. Commenting, he said he wanted to score and is really happy adding,
"What's most important is to win and to do well. Certainly there was a bit of pressure in general after my move from Real, there was a lot of expectation. That's life, I'm working well. My teammates are helping me hugely to adapt to this new league."
Ronaldo's first came as a result of Gian Marco Ferrari, a defender for Sassuolo headed the ball but it rebounded off the goal post, and Ronaldo was in place to tap the ball into the goal. Sunday's game was Cristiano's fourth with Juventus since leaving the Real Madrid.
ESPN
Ronaldo's second goal of the game came only fifteen minutes later after he fought off a counterattack and sent the ball into the bottom right corner of the net. Fighting for a hat-trick, Ronaldo was denied after Sassuolo's goalkeeper, Andrea Consigli, pulled off the save.
In the final minute of play, Khouma Babacar, who was sent on as a substitute for Sassuolo, scored on Juventus to give Sassuolo their only goal. It was Juventus's Douglas Costa's elbow to Federico Di Francesco in the lead up to the goal that led to the two arguing and Costa head-butting Di Francesco and earning a yellow card initially only to see that upgraded to a red card moments later after video replay showed that Costa spat on the Sassuolo player as well. As a result, Costa may be handed a substantial ban.
For punters, Juventus is in search of their eighth straight Serie A title, and footballers will know the value is backing such a successful team. Canadian sports betting sites also see the value they bring to the league and with favoured odds, and with generous sign-up bonuses, the time is ripe for registering and claiming bonuses from our list of recommended soccer sportsbooks. Why not take a look at the multiple offers waiting for you today.