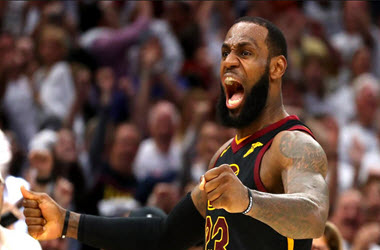 LeBron James was spectacular last night in the Cleveland Cavaliers victory over the Boston Celtics to force game 7 in the Western Conference. The victory means LeBron will play another game for the Cav's, whether he remains is another story.
The performance by James in Game 6 is the thing that makes legends, scoring 46 points, he led Cleveland to a 109-99 win over the Boston Celtics in what was a do-or-die game for the Cavaliers. All this after losing star player Kevin Love, who left the game with an injury to his head.
With Lebron James in position to become a free agent after the post-season, last night might have been the last game James played for Cleveland. However, with their win, another game will come as the Cav's, and Celtics meet for Game 7 in Boston to determine who will win the Eastern Conference and go to the NBA Finals. Basketball sports betting sites have Boston favoured slightly over the Cav's but with the two teams almost equally skilled, who will win is a tough one to determine.
Speaking on the performance and value LeBron James brought to the game last night, Coach Tyronn Lue said,
"Greatness, championship pedigree. Giving it his all. We needed that, especially when Kevin went down. We had to play 'Bron as many minutes as he had to. He delivered. He was up for the challenge. He carried us home as usual."
If the Cavaliers are successful in Game 7, it will, for LeBron, be the eights time straight he has gone to the NBA finals, it is the thing of legends,
"It's a Game 7," James said. "It's something that you wish you had when you're done playing, but more than that, it's just basketball for me. I know what I'm capable of doing, and I'm going to trust everything I put into it."
Adding to James's 47 points, Jeff Green scored 14, and George Hill bagged 20. Top scorers for Boston were Terry Rozier with 28 and Jaylen Brown with 27.
ESPN
Boston had the chance in the final minutes to close the gap being only 7 points behind the Cav's until LeBron sunk a three-pointer, and minutes later scored a second three-pointer which saw the big man pounding his chest in victory. James added yet another in the closing minutes increasing the gap the Cav's had over Boston.
The Boston Celtics had an impressive post-season when you consider they have been without two of the top players, Gordon Hayward and Kyrie Irving due to injuries. The Celtics will now bring the series home for Game 7, and if you look at history, home is where Boston plays best.
Commenting, Marcus Smith, a point guard with the Celtics said,
"It's not going to be pretty," Celtics guard Marcus Smart said. "We've got to come out ready to get our nose bloody and our mouth bloody. We've got to come out ready to fight. You've got to find a way, whatever it takes."
After Kevin Love left the game in the first quarter with a head injury, it saw Tyronn Lue having to juggle the rotations which resulted in James having to play more than Lue would have liked – turns out, it was a blessing.
James went 35 minutes straight without having a break, the final eight minutes of which the star player was playing with a sore leg. For James, he was unaware that Larry Nance Jr had bumped into him earlier in the game.
"I felt some pain throughout my entire right side of my ankle into my leg," he said. "I was just hoping for the best, obviously, because I've seen so many different injuries, and watching basketball with that type of injury, someone fall into one's leg standing straight up. Luckily, I was able to finish the game."
Hill, who was traded to the Cav's before the deadline, has been in awe of James and his post-season performance stating,
"I've been in the league for some years and ran across him on the other side and really hated his guts, but to have him on our side, it kind of lets me take a deep breath of fresh air. It's just something that you really can't explain what he's doing night in, night out. It's just something special. I thought the best was when he always put us out. But to actually see it when he's on your team, I can't even put it into words."
As the post-season is close to moving towards the final 7 games, James will find himself a free-agent, but the star has said he wants to end his career with the Cavaliers, but with New York, Los Angeles and Philadelphia all interested, where James goes is anyone's guess.
For now, home is with the Cleveland Celtics, and for James, that suits him fine.