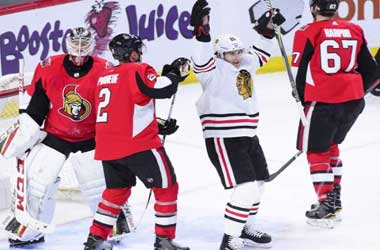 The Chicago Blackhawks saw Jonathan Toews and Nick Schmaltz both scoring goals, as did Patrick Kane and earned four assists against the Senators. Chicago went on to decimate the Ottawa Senators 8-2 after scoring five goals during the 2nd period and defeating Ottawa's hopes of a comeback.
Erik Karlsson, the captain of the Senators said.
"I think we started the game the way that we wanted to and then in the second we kind of give them a little too much, and then going in the third down 6-2 it's going to be hard and especially when they're having a night on their PP (power play) and they score another two."
The Blackhawks Patrick Sharp, Jan Rutta and each scored for the Blackhawks, and Anton Forsberg closed the door 25 times against Ottawa. The second period of play seems to be a challenge for Ottawa with it being outscored consistently during the second period. The loss to the Blackhawks put an end to Ottawa's winning streak. It saw the team experience its worse loss this season since its loss to Montreal 8-3 in October.
Ottawa's Derick Brassard and Mark Stone scored the teams two goals and goaltender Craig Anderson saw goal goals against 26 shots on net before being pulled and replaced by Mike Condon. Condon then near equalled the poor performance of Anderson and had four goals scored on 17 shots on net.
The season has seen Ottawa's goaltenders both struggling to get the job done, yet Dion Phaneuf believes placing the blame against the goaltending is unfair.
Phaneuf stated,
"I don't think in any circumstance that we need more saves, it's on us, in front of our goaltenders to do a better job. We made mistakes, we made mistakes in key areas and our goaltenders have been solid."
Jonathan Toews, for his part, scored two goals, with his second coming three minutes into the third and increasing the Blackhawks lead to 7. Patrick Kane scored the 8th goal on a power play against Ottawa. For Kane, this was a historic night in his career as it was a first for him to record five points.
Patrick praised he strong Blackhawks power play that saw it go 4-6 as the factor that helped him in the game commenting,
"I think one of the things we really haven't really had the fortune of this year is to have a hot power play, you saw that tonight. We were kind of making easy plays. I don't think it was anything special throughout the game. Just making the right play out there and finishing off some plays."
Ottawa Goaltending Struggling
Ottawa's Craig Anderson struggled last night giving seeing three goals scored in less than five minutes of play on only four shots. Five minutes into the game the Blackhawks were up by two thanks to wrist shot of Patrick Sharp. Nick Schmaltz then increased the lead to 3-0 during a power play and Jonathan Toews made it 4-0 after taking control of a rebound and that put an end to the night for Anderson.
Ottawa did bounce back and shorten the lead to 4-2 after Mark Stone scored against Anton Forsberg and Derick Brassard also managed to get one past, but that was all the action that Ottawa was going to see. Chicago came back strong and regained its lead by four-goal thanks to Rutta and Schmaltz.
When questioned about Condon and Anderson giving up five goals during the 2nd period, Phaneuf stated,
"We've talked about it, you guys have talked about it and we have to find a way in our room to have better second periods, I really cannot be any more honest with you than admitting that we have to find a way to be better in the second, more consistent and play to our capabilities."
Matters were not helped when Ottawa's Bobby Ryan left the ice with an injury to his hand in the 2nd period and was unable to return for third-period action and it is expected that he will not suit up for Wednesday night's game against Toronto.
Mark Stone, when being interviewed stated,
"We're going into Toronto to a team that's playing well and very offensive and has skilled players and if we're not ready it's going to be the same outcome. We have to regroup in the next 24 hours to be prepared for Toronto. We can't dwell too hard on this game."
With Ottawa having played 41 games this season so far, with 14 wins, 18 losses and 9 ties, facing Toronto, who is 44/25/16 will see plenty live betting punter action with top Canadian online sportsbooks favouring the Maple Leafs. As the season progresses, whether Ottawa can come back and be competitive is unknown but is sure to be a hot topic for Ottawa fans looking to support their team with the best betting sites.