Alvarez vs. Golovkin Will Be More Entertaining Than Mayweather Circus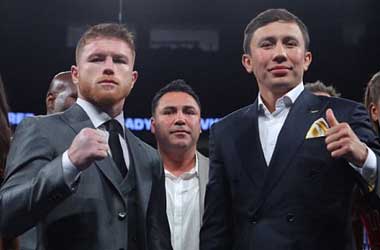 Everybody's talking about the Mayweather vs. McGregor 'money fight' on August 26, so much so that the Canelo Alvarez vs. Gennady 'GGG' Golovkin boxing match is being swept aside in the media.
However true fans of the 'sweet science' have been waiting for years to see one of the greatest middleweight fighters in GGG take on the young and exciting Canelo.
There were rumors in the boxing community that Canelo Alvarez who has a (49-1- 1, 34 KOs) record was ducking GGG and not giving fans the match that they wanted to see. After 18 months of back and forth, the contracts were signed as both fighters agreed to fight on September 16th in the T-Mobile Arena in Las Vegas.
The two fighters are also doing media in an effort to promote their fight but they are getting overshadowed by the Mayweather vs. McGregor promotion. However GGG said he wasn't concerned about the Mayweather fight as true boxing fans will buy the pay-per-view as they wanted to see a real fight. GGG took a crack at the 'money fight' by saying it wasn't a real fight and more show business.
Fight Hub TV
In a statement, Gennady 'GGG' Golovkin said
If you want to watch a comedy show or a business show, then please watch Mayweather and McGregor. Everybody understands that my fight with Canelo is a true fight, it is a boxing fight and is about respect and sport. This is not a show, this is not a show at all. This is a true fight. There's a big difference. I know people know that Sept. 16 is the more important time and more important date
GGG has never been defeated in his career and holds a (37-0, 33 KOs). He will defend his WBC, WBA, IBF, IBO middleweight titles as Canelo steps up to middleweight to face one of the greatest middleweight fighters to have ever stepped into the boxing ring. Betfair has the 35 year old GGG as the favorite with odds at 8/13 while Canelo is the underdog with odds at 11/8.
GGG's last fight was in March 2017 when he fought Daniel Jacobs and for the first time fought 12 rounds that went to the judges. He won the fight but it wasn't the usual convincing performance that GGG fans are used to. The legendary fighter has promised to KO Canelo as he is the smaller opponent who is stepping up to the middleweight division.