Canadian Men's Amateur Championship Won By McCulloch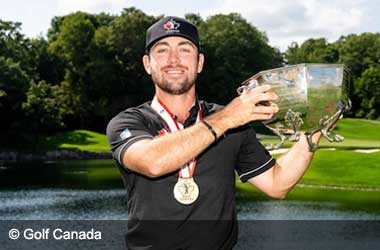 Summary
Canadian Men's Amateur Championship took place at the Pulpit Club in Caledon, Ont.
Ashton McCulloch from Ontario ended up winning the tournament by 5 shots
This win gives him an entry to the 2024 RBC Canadian Open
If you are looking to find the best young golfers in Canada, you must attention to the Canadian Men's Amateur Championship which takes place every year and is a great place to hone your golf betting strategies before a major event. The 118th edition of the event took place at the Pulpit Club in Caledon, Ontario, over a 4 day period during this week.
Ashton McCulloch Wins Amateur Championship
Players found it tough during the 4 day event as they had to work with different weather conditions which ranged from gloomy, to sunny to soggy wet. There is not a lot of prize money on offer in this tournament as you only had $8,000 CAD up for grabs and only the top 10 finishers end up in the money.
While the money isn't great, winning this tournament does help with recognition and giving you a few perks along with the title of being the Canadian Men's Amateur Champion.
Ashton McCulloch from Ontario played a fantastic game during all four days and was the only player in the tournament that that was able to shoot under par during all 4 days. He finished with a 69-68-70-70 score and finished with a 7-under par total to claim the championship.
In a statement, McCulloch said
It feels amazing, a lot of hard work has gone into this over many years of golf, I have so many people to thank, that are such big role models in my life and that have propelled me to this point. I can't thank enough people and Golf Canada for running this event, it was a lot of fun and I'm happy to play well this week.
Phil Arci of Woodbridge, Ontario came in second place with a 2-under while the third spot was a tie between Caleb VanArragon of Blaine, Minn. and Jordan Gilkison of Washington Township, Ohio.
Automatic Entry Into The 2024 RBC Canadian Open
The win at the 2023 Canadian Men's Amateur Championship gives Ashton McCulloch an automatic entry into the 2024 RBC Canadian Open which will take place at the Hamilton Golf and Country Club in Hamilton, Ontario.
McCulloch also gets a pass to play at the 2023 U.S. Amateur Championship taking place at the Cherry Hills Country Club in Cherry Hills Village, Colorado which runs from Aug 14 to 20.