CanWNT and Canada Soccer Reach Interim Funding Agreement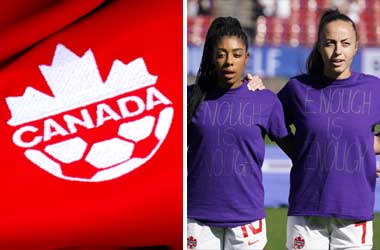 Summary
Canada Soccer and Canada's women's soccer team have reached an interim funding agreement
Interim funding agreement similar to men's national team agreement
Interim agreement will give women's team pre-game incentive and results based comp
The Canadian's women's national team (CanWNT) appear to be temporarily happy with the new interim funding agreement that Canada Soccer have offered them.
The CanWNT has been at loggerheads with the governing body for soccer in Canada for the last few weeks and launched a public campaign to let the public know that they were representing Canada under protest during the recently concluded SheBelieves Cup.
The CanWNT felt that they were being unfairly treated and discriminated by Canada Soccer in a number of areas. The men's national team had earlier criticised Canada Soccer before the start of the 2022 FIFA World Cup in Qatar as they wanted better compensation. 
Interim Funding Agreement With CanWNT
Canada Soccer managed to reach an interim funding agreement with the men's team and they used a similar strategy to get the CanWNT to reach an agreement. Canada Soccer confirmed that they have offered the CanWNT an interim funding agreement which includes pre-game incentive and results based comp.
In a statement, Earl Cochrane, Canada Soccer's General Secretary said
This is about respect, this is about dignity, and this is about equalising the competitive environment in a world that is fundamentally unequal. We have been consistent and public about the need to have fairness and equal pay be pillars of any new agreements with our players, and we are delivering on that today.

While this is an important step forward, and it signals progress, there is still more work to do to ensure both of our national programs are given the necessary resources and supports to prepare and compete.
Canada Soccer Under Pressure To Make More Changes
Canada Soccer President Nick Bontis stepped down from his post earlier this week as pressure mounted for him to resign. Charmaine Crooks, a former Olympian has replaced Bontis as interim President with an election set to be held in May to elect a new President for Canada Soccer.
The new President will have a tough challenge ahead as Canada Soccer will have to come up with a new Collective Bargaining Agreement for both the men and women's national teams soon.