Canada's MOS Asks Hockey Canada To "Clean Up their Act"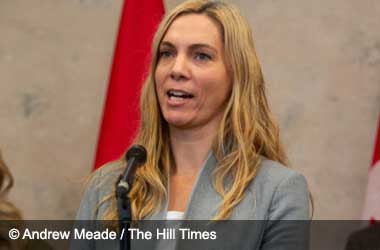 Summary
MOS St-Onge said Hockey Canada's "culture of silence" must stop
Hockey Canada is under fire over its handling of sexual assault allegations against players
The government plans to carry out an independent probe into the case
Canada's Minister of Sport (MOS) Pascale St-Onge believes that the sexual assault scandal surrounding Hockey Canada has something to do with a "culture problem" within the organization.  
Allegations Expose Hockey Canada's "Culture of Silence"
Describing the latest revelations as "extremely horrific and disturbing", the Sport Minister said that the fact that the alleged culprits managed to get away with their crime and could even be thriving in the NHL right now only goes to show how weak Hockey Canada's investigative procedures are. 
St-Onge said the organization cultivated a "culture of silence", and failed to perform its duty of holding its members accountable for their actions. 
It's been revealed during a recent hearing conducted by the standing committee on Canadian Heritage that the accused players had not been required to participate in the investigation into the sexual harassment allegations against them. 
The organization also disclosed during the hearing that the alleged victim who is now 24 years old was offered support and that Sport Canada, a branch of the Department of the Canadian Heritage that provides funding for national sport teams, had been made aware of the incident. 
Since the matter was settled before reaching the court, Hockey Canada will now undergo a forensic audit to confirm that it did not utilize any public funds for the settlement.
The government also wants the organization to release the recommendations made during the investigation into the allegations which was carried out by law firm Henein Hutchison. Moreover, Hockey Canada must also allow the new Office of the Sport Integrity Commissioner to conduct an independent probe into the matter. Hockey Canada won't be able to have access to government funding unless it fully complies with these two requirements.   
Hockey Canada Should Clean Up its Mess
The Sport Minister said Hockey Canada's culture of silence should not continue and that its leaders must not tolerate sexual violence but instead actively promote the end of it. The Minister also urged the organization to discuss responsible sexual behavior with members and players, especially as many of them are separated from their families during their training.
Minister Pascale St-Onge has reminded Hockey Canada's officials of their responsibility to the kids and the public, and that they must clean up the organization and clean up their act. 
Hockey Canada has remained mum on the Minister's comments.