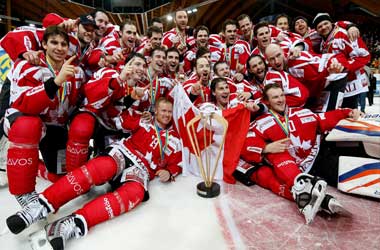 The Switzerland National Team failed to succeed in their attempts to take the win against Canada in the Spengler Cup final. Canada earned their place in the final after winning 5-2 against Mountfield HK during the semifinals on Saturday. This was thanks to Zach Boychuk scoring during a power-play late in the third, Maxim Noreau following up Boychuk's goal with an empty-netter.
"We came out better than the last couple games, we had a lot more confidence," said Maxim Noreau. "I think the guys are catching their wind up here at the altitude. It's been a tough transition for a lot of guys and (there's) the big ice. We've tried not to make a lot of excuses but it's always at the back of your mind. So I think today was a lot better."
The Czech's made a valiant effort with goaltender Patrik Rybar performing well with twenty-three saves. Michal Dragoun and Lukas Cingel each scored one goal for the Czech team.
Willie Desjardins, coach for Canada stated: "We expected a tight game going in. We thought that we might have an advantage on the energy level (since) they played an extra game. But they kind of surprised (us), they played hard. They're a good team."
Maxim Noreau commented:
"We got a day's rest yesterday which was huge for us, and we have a lot of composure in the room right now. We never really panicked in the room whether we were up or down. It was a good all-around effort."
The final played out this afternoon in front of a sold-out crowd at the Vaillant Arena. Both Captain Maxim Noreau and Kevin Poulin both earned top spots for Canada. Canada went out strong in the first period with a power play that saw Christian Thomas take a shot that hit the bar. It was the second period before Canada put the puck behind the crease and scored two goals in less than 4 minutes of gameplay.
The first of those was thanks to Maxim Noreau who managed to get the puck to Zack Boychuk who then put the puck past Leonardo Genoni. The second goal was all Maxim Noreau who gave Canada a 2-0 lead and the Swiss teams fate was sealed during the third period when Canada's David McIntyre's scored making it 3-0.
The Swiss did their best to apply pressure to Canada's goaltender Kevin Poulin, but Poulin proved to mush for the Swiss and defended all attempts. The goaltenders performance will certainly draw attention from the Canadian Olympic association as they will be looking closely at the Spengler Cup results as they determine who will join their Olympic roaster.
Today's win was the 15th Spengler Cup title for Canada. Make sure you are not missing out on the chance to walk away a winner as this the perfect opportunity for sport enthusiast wishing to grab some free bets for the upcoming Olympics. Bet365 and Betway each offer great free bet opportunities, as does Ladbrokes and Paddy Power.