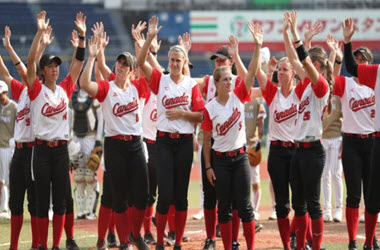 After rebounding from a loss to the United States, the Canadian women's softball team suffered a devastating 1-0 to Japan at the Tokyo Olympics and will now play Italy and for a final chance at bringing home a medal.
In a tight matchup between Canada and Japan, the Japanese were able to get the upper hand and hold off the Canadians after scoring a run during extra innings. While the loss was hidden behind Sara Groenewegen's mask, the emotions were anything but, and the tears could be seen flowing.
"Sorry, I'm crying. This is a phenomenal group of women."
Canada will now have to regroup for their game against Italy on Monday afternoon as they still have a chance to make the bronze medal game. The win for Japan came at the bottom of the eighth, and while coach Mark Smith had hoped for a better outcome, he knew the result would be a one run game.
"We knew that it was going to be a one-run game, and we knew that it might come down to late innings. We had a couple of opportunities to push runs across ourselves and couldn't get it done. They finally made good on one."
CBC Sports
Canada's Danielle Lawrie, who is a veteran reliever, was credited with the loss, while Japan's Miu Goto was credited with the win, increasing her Olympic record to 4 and 0. Sara Groenewegen, who took the mound for most of the game, only gave up two hits, a solid improvement over her performance against Australia.
However, the two games had a far different outcome, and coming off a 7-1 victory to face the superior pitching skills of Japan's Yukiko Ueno was too much for the Canadian team. Ueno pitched for six innings, striking out four batters and allowing four hits before handing the reins over to Miu Goto. For coach Mark Smith, he stated that Canada prepared heavily for their game again Japan, before adding,
"We came here believing we could go home a gold medallist. All of our focus over the last two years has been on that. They've sacrificed in their lives incredibly to put themselves in this position. It's a tough pill, but at the same time, we're too good a team not to go home with a medal."
The winning run came when Japan's Eri Yamade hot a since to centre field while Japan had runners on first, second and third. That allowed Hitomi Kawabata to make a charge for home plate and seal the victory for Japan. The loss for Canadian Jenn Salling, who plays infield for Canada and is one of only four players who played for Canada in the 2008 Olympics, was a tough pill to swallow.
"I'm still trying to navigate through that. It's important that we allow each other the opportunity to just sit in this a little bit. It's tough. It's a pretty heart-breaking feeling."
While they will still play Japan on Monday, the U.S. Women's softball team, who has secured their spot in the finals, defeated Australia on Saturday to give them a perfect 4-0 record. Canada entered the Olympics ranked third behind the U.S and Japan and, unless successful against Italy, will end their run on Monday.
The irony is, both Japan and Canada were the tournaments highest scoring teams but seemed locked in a battle that neither's pitcher could overcome and gain the advantage. As the eighth got underway, Eri Yamada singled to start the inning. After shortstop Jenny Yeung was hit with a fielding error resulting in runners on first and third and an intentional walk that saw the bases loaded, Canada suddenly was in trouble.
However, Danielle Lawrie got the job done, and while Canada had the chance to take the lead in the top of the eighth, Goto was flawless and struck out Canada. Mark Smith acknowledge Canada gave up hits but in post-game interviews, stated,
"We've given up three runs, two of them against the two teams that are playing the gold-medal game. I don't think we have to change a whole lot. We need a little more timely hitting.
The women's softball game is scheduled for 7am EST on Tuesday, and for punters hoping to see Canada fight for bronze and wager with Canadian sportsbooks in favour of Team Canada, they will have to wait to for the outcome of Canada's game against Italy on Monday. Should they prevail, Canada will place in the Bronze medal game at midnight EST on the 27th.