Canada Sets Best Medal Haul at 2022 World Aquatics Championships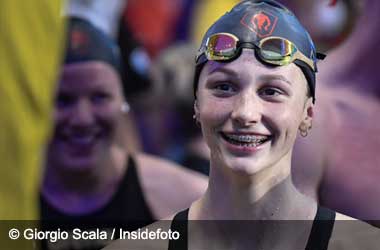 Summary
Canada surpassed its 2019 record after winning 11 medals in Budapest
15-year-old Summer McIntosh won two gold medals
The United States has once again dominated the Championships
The first eight days of the 2022 World Aquatics Championships in Budapest saw multiple countries creating new records, including Canada which ended up with 11 medals overall, its highest-ever medal tally in the competition.
The latest haul surpassed Canada's previous record of 8 medals, it achieved back in 2019 in Gwangju, South Korea. 
Canadian Swimmers Take Home 11 Medals
Leading Canada to its record medal haul was 15-year-old Summer McIntosh who bagged four medals throughout the pool competition, including a victory in the women's 400 Individual Medley at 3:32.04 which officially went down as the new World Junior Record. The Canadian teen won 2 gold medals, the other one came in the 200m butterfly which also created world junior marks. 
McIntosh also added 1 silver and 1 bronze to his name (both coming from the women's freestyle relay events) to wrap up an amazing week of swimming in Budapest. Kylie Masse from LaSalle Ontario won gold in the women's 50-meter backstroke, and also grabbed silver in the 100m backstroke. 
The Canadian team also made a podium appearance in the 4x100m freestyle relay after claiming the silver medal, while adding two bronze finishes in the 4x200m freestyle relay and 4x100m medley relay. Canada's most decorated Olympian Penny Oleksiak was part of the relay team. 
In the men's division, Markham's Joshua Liendo snatched two bronze medals in the 100m freestyle and 100m butterfly. Oleksiak and Liendo were also part of the team that won silver in the 4x100m freestyle relay (Mixed category) as the pool competition headed into its final day. Overall, Canada capped the first eight days of the 2022 World Aquatics Championships with 3 gold, 4 silver, and 4 bronze. 
Leaderboard Rankings
Overall, the US topped the medal tally with 45 in total, breaking its own record for the most medals won at the World Aquatics Championships. The country first created a record in 2017 when it won 38 medals. Australia ranks second with 17 medals (including 6 gold's), while Italy is third with 9 (5 gold's) and Canada is in fourth place with 11 medals in total (3 gold's).
The 2022 competition also saw a strong performance from France's as the country bagged eight medals in total, including two gold's, the most it has won since 2013. Sweden, Hungary, Romania, Great Britain, and China are also in the Top 10 list.