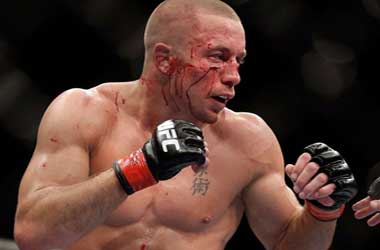 Canada's biggest MMA (mixed martial arts) star will make his return to the UFC on Saturday night at the iconic Madison Square Garden (MSG) George 'Rush' St. Pierre retired as the UFC welterweight champion and Canadian fans thought they would have seen the last of one of the greatest MMA fighters on the planet.
Rush decided to make his return after a four year hiatus and move up a weight class to challenge UFC Middleweight champion Michael Bisping for the belt.
Bisping vs. GSP will headline the UFC217 card which has three title fights on the line. Bisping and GSP have done a lot of media leading up to UFC217 including doing a press conference in Toronto, Canada.
The time for talking is almost done and come Saturday night GSP will either bring back the gold to Canada or walk into retirement again as Rush has made it clear, he will retire from the UFC if he suffers a loss.
Should he win and become the new UFC middleweight champion, he will then have to defend the belt against the number one contender which is Australian Robert Whittaker.
UFC – Ultimate Fighting Championship
Although GSP has been out of the Octagon for nearly four years, he has kept himself fit and continued to practice his MMA skills. He has hired legendary boxing coach Freddie Roach to help him with his stand-up game as he knows that is Michael Bisping's biggest strength. Bisping has challenged GSP to stand up and trade with him but GSP has always relied on taking down his opponents, going into a ground and pound and submitting them if the opportunity arises.
GSP will enter the Octagon as the better athlete but also as the smaller man. The size difference could pose a challenge for GSP in attempting to take down Bisping, who has claimed that GSP will be the smallest opponent that he has faced in long fighting career. UFC fighters Luke Rockhold and Colby Colvington believe that Bisping will win because of his size advantage and also because GSP is expected to have ring rust due to his four year absence from the sport.
Bisping knows that it is not going to be easy to beat the greatest Canadian MMA fighter of all time even though he has been out of the Octagon for four years. MMA fans will not have to wait much longer as UFC217 takes place on Nov 4 at MSG.