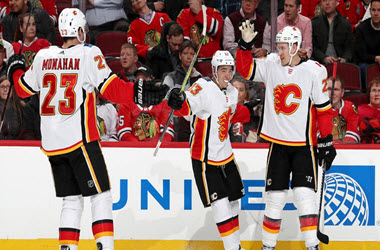 Sunday night may not have been the Calgary Flames best, but they found the breaks needed to come out on top with a 3-2 win over the Chicago Blackhawks. In doing so, they moved to the top of the Pacific Division.
Elias Lindholm and Sean Monohan both scored for Calgary, and Johny Gaudreau and Derek Ryan earned assists. This was the Flames second straight win and their third in the last four games. Speaking on their success, Bill Peters, coach for Calgary said,
"We got the two points, right? There's lots of things we could have done better. Could have managed the puck a little bit and made some decisions."
It was the mistakes of the Chicago Blackhawks that gave Calgary the opportunities they needed to score. Both Ryan and Lindholm scored on power plays, with both coming less than 90 seconds apart. That put the Flames ahead 3-1 after a major penalty was given to Chris Kunitz for a vicious elbowing to the face of Travis Hamonic.
Coach Peters was not happy to see the elbow to Harmonic, commenting that,
"That ended up being the game-winning goal on the power play, so we did what we needed to do. You'd rather not see a guy take a headshot."
The result saw Hamonic suffer a broken nose, but that didn't keep him off the ice, and he returned to put in over twenty minutes. Hamonic didn't feel it was their best game said they managed to "find a way to win".
Sportsnet
Calgary goalie Mike Smith has 22 saves for the night including one that kept the Blackhawks scoreless in the third as a result of Smith stopping a point-blank shot by Artem Anisimov's with only 5 minutes left in play. Smith commented on the play saying,
"A gaping net, I was kind of a fish out of water there, kind of kicking my feet and fortunately got a piece of it."
Chicago's Dylan Strome and Jonathan Toews scored the Blackhawks two goals. This was their fourth loss in a row and their sixth in the last seven games under new coach, Jeremy Colliton. In their last seven games, Chicago has led only once and that came with an overtime win against the Panthers.
Coach Colliton felt they played better last night stating,
"I thought tonight was better, regardless of the result. We don't control the result, we control our performance."
However, Colliton, while speaking on the hit by Kunitz said,
"It was hard to see and didn't really get a good look at it. It was unfortunate."
Chicago is struggling in recent games having been outscored in the first period 17-4 and overall, 31-19, and that is where Colliton felt they improved as they were tied at the end of the first period, however for Chicago to hope for a playoff spot, things will have to change as their current trajectory is not helping them win games.
Chicago will next play Anaheim Wednesday night, and the Flames will face the Minnesota Wild on Thursday. Why not watch the game live with one of our recommended in-play betting sites, with generous signup offers on the table, the opportunities are endless. Check out our list on premium in-play sportsbooks today!.