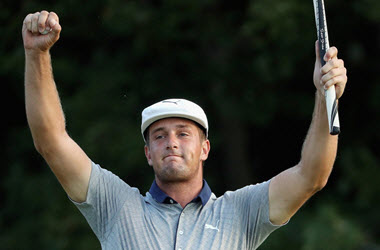 Bryson DeChambeau raises his firsts in celebration after winning the Dell Technologies Championship
Two back-to-back victories has put Bryson DeChambeau on top of the golf world. His style of play is different, and the results are exactly what all others hope to achieve.
This is the time when the richest tournaments on the PGA tour take place, and for Bryson DeChambeau, he not only won the Dell Technologies Championship this week but also took home the trophy at last week's Northern Trust. Combined, they earned DeChambeau $3.240,000 and increased his world ranking from 99th to 7th. He became one of a few players to win back-to-back championships in the FedEx Cup.
He finished the day on Monday at 4 under-par after shooting three back-to-back birdies, and that separated him from the rest of the pack and putting him two shots ahead of second place Justin Rose.
As far as DeChambeau was concerned, he could not have written it better if he tried. He added,
"I've been playing some great golf this whole year. And I knew it was a matter of time before something cool showed up."
The last player to accomplish back-to-back wins was Vijay Singh in 2008. However, at that time, the points system was different and was not reset prior to the final day. This weekend's win was DeChambeau's third win this year. The win gives DeChambeau the No.1 seed once they get to the Tour Championship, regardless of the outcome at next week's third playoff tournament.
It is expected that DeChambeau will be a top choice for the Ryder Cup when Jim Fury announces his choices for the U.S team. DeChambeau is the hottest player on the tour at the moment and is a likely choice. At 24 years of age, he has been given the nickname "Mad Scientist" due to the manner in which he approaches golf. That approach includes single-length clubs and working on biomechanics calculations with each shot he takes.
When asked if he thinks he could get better than he is now, DeChambeau said,
"You can always get better. How much? I would say it depends on what I can do in the restrictions of my biomechanics. So it's all about error tolerances and being … less sensitive to error. So that when you do feel like you mess up, it's not going to be that big of a mess-up. I hope that makes sense, but I can say there is another level."
PGA
The Abbotsford, B.C's Adam Hadwin began the final round playing strong and finished the final day at 1 under-par finishing the tournament tied for 21st. Hadwin managed three birdies in the first four holes and then went on to hit par on the next eleven holes. The 16th and 17th holes saw Hadwin struggle costing him two strokes.
DeChambeau began the day one shot behind leader Abraham Ancer and was one of ten players who were all within four shots of the leader. Once DeChambeau he took the lead after scoring a birdie putt and extended that lead on the 9th hole with another birdie.
After a birdie on the 15th, the push from Australia's Cameron Smith was brought to an end who would need an eagle to catch DeChambeau but failed to do so. Ancer was unable to match the pace set by DeChambeau and fell behind by three shots after hitting a snag on the 18th hole with a bogey.
Next up on the FedEx Cup is the BMW Championships. With a $9,000,000 million prize pool up for grabs, DeChambeau will have his eyes set on continuing his domination. For bettors looking to place bets on the upcoming tournament, why not visit our golf betting page where you will find top Canadian golf betting sites such as bet365, with up to $200 in sign-up bonuses up for grabs, the time is perfect to register today and claim your sign- up bonus.