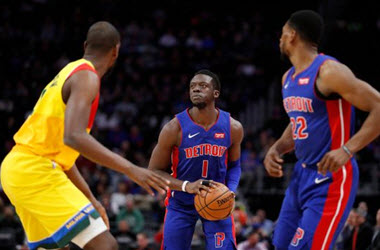 The Milwaukee Bucks, since losing to the Washington Wizards in January have been near unstoppable racking up seven wins against two losses, last night they added the Pistons to the list of those that came and went.
Giannis Antetokounmpo scored big with 21 points as the Bucks defeated the Detroit Pistons 115-105. He also had eight rebounds Tuesday and set the pace for the only NBA team not to have back-to-back losses, and when it comes to sports betting analysts that is a stat worth knowing, especially when placing bets on future games with bookmakers such as Sports Interaction, a leading Canadian sportsbook.
Antetokounmpo, who had three steals last night and blocked two commented about the team saying,
"I love that about this team. Every game we don't play well, the next game we try from the first minute to set the tone."
Milwaukee coach Mike Budenholzer knew it would be a tough game based in their past history in relation to their competitiveness and character. Budenholzer commented, post-game that,
"Really good teams historically, they usually bounce back after a loss, and, so far this team has been able to do that."
The Greek Freak stuffed the stat sheet in last nights WIN!!

21 PTS | 11 AST | 8 REB | 3 STL | 2 BLK#FearTheDeer pic.twitter.com/jGBiyVHJ6F

— Milwaukee Bucks (@Bucks) January 30, 2019
The Milwaukee Bucks are atop the NBA just ahead of the Toronto Raptors having won 36 games and registering 13 losses. Detroit is in ninth place with an equal win/loss record of 24 wins and 24 losses. Commenting on their wins Milwaukee's Pat Connaughton, who scored 16 points last night, a season high, commented that,
"We learn from our mistakes. The unfortunate thing in sports is you tend to learn a lot more from losing than you do winning."
25 for Reggie, 20 for Dre and 19 for Luke but we fall to Milwaukee.

The #Pistons Playback final crafted by @Flagstar. pic.twitter.com/hDmg6tu1ru

— Detroit Pistons (@DetroitPistons) January 30, 2019
Also having a big night for Milwaukee was Brook Lopez, who scored 14 points last night, 12 of which came in a first quarter that saw Antetokounmpo only earning three points due to being benched for half it as a result of getting two fouls. Eric Bledsoe also had a solid night scoring 20, Khris Middleton and Tony Snell scored 15 and 11 points respectively.
Reggie Jackson equalled his season high scoring 25 points for the Pistons. Adding to Detroit's total last night was Andre Drummond with 20 points and Blake Griffin with 18. Drummond picked up 13 rebounds, and Griffin has seven. Blake Griffin said he has yet to give up, even though Detroit has now lost four of their last five games and is hopeful they can still make the playoffs adding he feels it's still within their grasp.
Milwaukee went up eight points by the end of the first quarter and extended that to 13 by halftime. It was enough to keep the Pistons at bay who seemed unmotivated to fight back and reduce the gap. For their part, the Bucks kept pushing and were able to maintain their lead.
The Milwaukee Bucks next head to Toronto to meet the Toronto Raptors, second in the NBA, before heading to Washington for a 7 pm game against the Wizards. The Pistons will welcome the Dallas Mavericks tomorrow night and the Clippers on Saturday.