Live Betting Tips & Strategy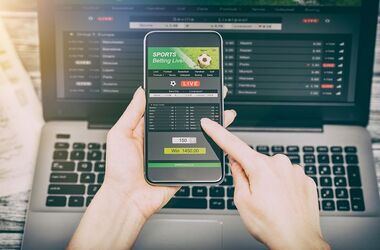 Such is the modern sports betting world in that bettors are no longer restricted to betting before an event begins. Gone are the days when it was a case of all bets placed before the off.
Now, thanks to the invention of live betting, bettors can bet once the action is underway. They can make calls mid-game or mid-race and get their money down in reaction to what they're seeing unfold in front of their eyes.
In this article, we're going to look at all things live betting, answering questions such as what is live betting? What sports can you bet on live? Is live betting worth it? We'll also look at the pros and cons of live betting, plus look at what you can do to enhance your chances of success when betting on live sports events with our live betting strategy and tips.
Best Canadian Sites for Live Betting
What is live betting?
Let's start at the beginning. What is live betting? In a nutshell, live betting, which is also known as in-play betting, involves betting on an event that has already begun.
Live betting is the opposite of pre-match betting, which involves betting on a sporting event before it begins. With live betting, you can typically place a bet at any point between just after the start and just before the end.
So, for example, you could place an NHL bet a few minutes after the game has begun. Alternatively, you could place a bet inside the final quarter of an NFL game. The live betting possibilities are almost endless.
Ultimately, live betting allows players who don't want to commit before the start of an event the chance to get in on the action. You might want to bet on a big soccer match, but if you want to see how things pan out in the first 10-15 minutes, then live betting offers you the opportunity to do so.
Nowadays, live betting is available at all reputable Canadian sportsbooks, while there are typically live betting options across most sports. Even sports that take only a short duration to complete, such as horse racing, can be bet on live.
Live betting sports
As mentioned above, many sports lend themselves to the practice of live betting. In a world of increasing choice, bettors have the opportunity to place live bets on pretty much any sport they can think of.
See below for the most popular live betting sports:
NFL (American Football)
Amongst Canadian bettors, the NFL is hugely popular. Of course, it's not as popular as in the US, but it's still a sport that is bet on a lot.
NFL games provide a multitude of live betting options. Just as you can before the game begins, you can bet on the Moneyline during the contest, which means that if you feel like a team can come from behind, you can get great odds by placing a Moneyline wager.
You can also bet on several other NFL markets once the game has begun, such as 'Points Spread,' 'Points Total,' 'Team Points,' plus a whole host of markets that are specific to each quarter of the contest.
NHL (Ice Hockey)
The NHL is huge in Canada, there can be no mistaking that. NHL betting is big business too. Many Canadian bettors place in-play bets on NHL games. If you want to see how your team starts before betting on them to win, then live betting is the way to go.
Typical live bets that are placed on the NHL involve betting markets such as 'Puck Line,' 'Money Line' and 'Points Total.'
Soccer
Soccer is probably the most popular sport amongst bettors worldwide and is almost definitely the sport with the biggest in-play betting potential.
Just as the number of possible pre-match soccer bets reach the hundreds, there's a whole host of things for bettors to wager on once the game gets underway. All the typical markets such as 'Full-Time Result,' 'Handicap,' 'Total Goals,' and 'Both Teams to Score' are available, while in-play soccer bettors often bet on things such as which team will score the next goal or even which player will score the next goal.
MLB (Baseball)
Baseball is naturally popular among in-play bettors because it takes a long time to complete one game. This means that lots can happen and lots change, which brings about numerous live betting opportunities.
You can bet on the outcome of the game at any point once the game has begun, while you can also bet on things such as runs, players to score a home run, players to score a certain number of runs, run totals and more.
Horse Racing
Horse racing doesn't provide as many live betting opportunities as some sports, purely because it doesn't last as long, but that doesn't mean you can't bet during races.
Many sportsbooks offer live betting on horse racing, which is often known as in-running betting or betting in-running. The odds move quickly to keep up with the pace of the race, so you have to move quickly if you want to bet on a race that has already begun.
Live betting is great for those bettors who like to see how the horses start running with a view to picking one out that seems to be going well.
NBA (Basketball)
Basketball is another popular betting sport in Canada. Many Canadians like to bet on their favourite teams, such as the Toronto Raptors.
There are lots of live betting options when it comes to Basketball, such as 'Total Points,' 'Money Line,' 'Team Points,' and 'Point Spread.'
Tennis
As it's fast-paced and all action, with the score rapidly changing, tennis is a great sport to bet on live.
With a point being won or lost every minute or so, live betting in tennis is fast and furious. Players can watch the action and bet on the winner in play, while they also have other live betting options such as betting on the player to win the next point, win the next game, or win the next set. You can also bet on game totals, set totals and so on.
Golf
The opposite of fast-paced sports, Golf is something that lasts several days but also presents bettors with many in-play options. You can bet during any of the first, second, third or fourth rounds of a tournament, and the great thing about golf is that even in-play bets can stay alive for a long time.
Typical live golf bets include betting on players to win the tournament, make the cut, or even do something far more specific, like shoot a certain score or make a certain number of birdies.
Other Sports
The list of sports where live betting is available doesn't end here. The sports shown above are merely the most popular sports from an in-play point of view, but there are many other sports that accommodate the live bettor.
The following sports can also bet on live:
Cricket
Rugby
Motor Racing
Snooker
Darts
Table Tennis
Cycling
Pros and cons of live betting
There are, of course, some great benefits of betting live, but as with anything, there are pros and cons. These are as follows:
Pros
One of the pros of live betting is it allows players to bet with feeling and be reactive. Many bettors like to see something happen in front of their eyes and use their observations to turn them into a betting opportunity. For many punters, this isn't the best way to operate, but each to their own. If you are the type of bettor, who likes to rely on a 'feeling' and make snappy, fast betting decisions, then live betting is great.
In-play betting also allows bettors the chance to correct pre-match plays that could be going wrong. You can atone for pre-match errors by betting in-play. Betting in-play also provides the opportunity to trade out and lock in early profit. For example, you might bet on one side of a market before a game, and then when the price adjusts in the game, bet on the other side of the market to lock in a profit regardless of the outcome.
Another pro is that for the bettor who just wants to have some fun, in-play betting can be great, as it's fast, frenetic and provides a great rush.
Cons
Unfortunately, live betting does have some cons. The first of which is the fact that you have little time to reflect. If you're the type of bettor who likes to ponder, consider your options and make logical calculations, then in-play betting isn't for you as it doesn't really allow time for this, at least not in most cases.
The frenzied nature of live betting means that it's also not always going to be easy to stick to your plan. If you're somebody who is easily swayed, then live betting can be a slippery slope, as before you know it, you could have made a series of sizable errors.
Live betting strategy & tips
If you want to stand any chance of being successful as a live bettor, as with any type of gambling, you need a strategy in place. What this strategy looks like is up to you, though there are a few things you can do to build a solid foundation for your strategy.
Check out our live betting tips below:
Specialise
All sports betting, if done seriously, requires some form of specialization. There is simply too much action for you to stay on top of everything. Narrow your approach and try to focus on one sport.
You can even dial in further and focus on a particular area of your chosen sports. For example, if you're into soccer, you can try to identify positive value 'Total Goals' bets or 'Handicap' bets. Become an expert in that market, know everything you need to find viable betting opportunities and stick to it.
Understand value, odds, probabilities and variance
If you're going to bet in-play and you're serious about trying to turn a profit, then you need to understand the importance of value. Learn about value, find out how to identify bets that represent positive value and use them to your advantage.
You should also learn about probabilities and understand what sports betting odds actually reflect. Variance is another thing to keep in mind too. Doing so will help you on your betting journey.
Bankroll management
It's important to bet from a separate fund, a pot or a betting bankroll, if you will. Setting aside a certain amount of money (that you can realistically afford to lose if things go wrong) to bet with will help you stay on top of your betting activities. This can also help you to remain disciplined, as you won't be at risk of losing money that is required elsewhere.
Keep a record
You should record all of your bets. Keep a record not only of the profit and loss, but of the bet types, plus the teams and leagues that you're betting on. Doing so will allow you to assess your performance over time.
Live Betting Tips & Strategy FAQ