Volkanovski vs Ortega Predictions, Odds & Betting Sites for UFC 266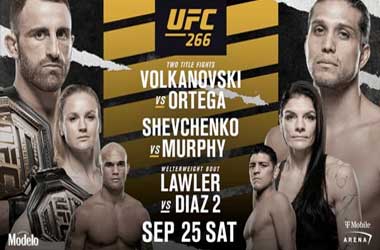 On September 25th, the Ultimate Fighting Championship returns to the T-Mobile Arena with three highly anticipated fights. Supporters will witness Alex Volkanovski, and Brian Ortega compete for the Featherweight Championship Belt. There'll also be matches involving Valentina Shevchenko, Lauren Murphy, Robbie Lawler and Nick Diaz.
Two women will battle for the Women's Flyweight Championship Title, with Valentina Shevchenko expected to overcome Lauren Murphy without any challenges. But there'll be an exciting bout happening before these title bouts, as Nick Diaz and Robbie Lawler are having their highly requested rematch.
Bookmakers have favoured Alexander Volkanovski to maintain his Featherweight Title, with similar expectations for Valentina Shevchenko with her Women's Flyweight Title. When it comes to Nick Diaz & Robbie Lawler, bookmakers believe both men have an equal opportunity at winning their matchup. Regardless, an overview of UFC 266 is provided down below.
Best Online Sportsbooks To Bet On UFC 266
UFC – Ultimate Fighting Championship
UFC266 Fight Analysis
Odds have been provided by Spreads.ca and are accurate as of 20/09/2021
Alex Volkanovski vs Brian Ortega
Odds to win: Alex Volkanovski -160 / Brian Ortega +140
Throughout the last three years, Alexander Volkanovski has dominated the Ultimate Fighting Championship. Everyone recognized his talents after UFC 232 in December 2018, and it was here was Chad Mendes was defeated by Volkanovski. Afterwards, numerous victories were acquired by Volkanovski. He's beaten the likes of Max Holloway and Jose Aldo, which allowed Alexander to earn the Featherweight Championship.
Opponents have continually targeted Alexander Volkanovski, with the latest being Brian Ortega. He's the first opponent in years that poses any challenge to Alexander, as Ortega frequently changes his stance. This ultimately means an unexpected change in fighting style, which most fighters avoid. As such, Volkanovski could make unconventional mistakes when fighting Brian Ortega & which could allow the American fighter to defeat Volkanovski.
Valentina Shevchenko vs Lauren Murphy
Odds to win: Valentina Shevchenko -1375 / Lauren Murphy +800
UFC Supporters are being greeted to another fight with Valentina Shevchenko, as the Flyweight Champion combats Lauren Murphy. Bookmakers have favoured the talents of Shevchenko, as Spreads.ca has provided -1375 Odds to Win for Valentina, and Lauren Murphy retains +800 Odds to Win. Therefore, all indications show that Shevchenko will dominate over her opponent. It'd be unlikely for herself to lose as Shevchenko has consistently won several fights.
There'll be one characteristic that Lauren Murphy can exploit in Shevchenko's combat style, with that being Shevchenko is slow. Valentina makes up for her lack of speed by maintaining powerhouse combinations that'll leave an opponent knocked out or nearly unconscious. It's estimated that Shevchenko carries 2.6 Takedowns every 15 Minutes. So, Lauren Murphy will have to be considerably fast to overcome a Shevchenko Combo.
Robbie Lawler vs Nick Diaz 2
Odds to win: Robbie Lawler -110 / Nick Diaz -110
Nearly several years have passed with Nick Diaz competed in the Ultimate Fighting Championship. Nicks returns after supporters rallied for him to rejoin the UFC for years. Now the eldest Diaz brother will compete against Robbie Lawler on September 25th, 2021. Neither fighter is expected to dominate the other, as both have competed in some time. Robbie Lawler's last fight was at UFC Fight Night 175 in August 2020, and he lost to Neil Magny, someone that'd likely struggle against Nick Diaz. But six years have passed since the eldest Diaz brother entered the UFC octagon.
Analysts and fans are concerned that his prolonged absence could result in poor performance. Nobody will know how Nick Diaz's training has unfolded until he enters the octagon on the 25th. Fans shouldn't count him out, as Nick Diaz acquired 26 Victories in the UFC. There's a 50% chance that he'll overcome Robbie Lawler based on the Spreads.ca Odds to Win. As such, gamblers can select either competitor to have an equal chance at winning. We'd recommend betting on both fighters to cover off potential losses.
Jessica Andrade vs Cynthia Calvillo
Odds to win: Jessica Andrade -280 / Cynthia Calvillo +225
The UFC 266 Pay-Per-View is providing supporters with numerous matches that were unexpected. One such matchup involves Jessica Andrade and Cynthia Calvillo, who are both coming off recent losses. Andrade would've been the one fighting against Lauren Murphy if she hadn't lost to Valentina Shevchenko at UFC 261 in April 2021. But Andrade will look to regain her former glory & have another opportunity at fighting Shevchenko by defeating Cynthia Calvillo.
Analysts anticipate that Jessica Andrade will stand victorious over Cynthia Calvillo, as both women have fought against Katlyn Chookagian. Jessica Andrade would defeat Katlyn Chookagian in October 2020, with Cynthia Calvillo losing to Chookagian at UFC 255. Moreover, that was the last time that supporters witnessed Calvillo fight in the octagon, and her experience is considerably less compared to Andrade. With that factored into your wagers, Jessica Andrade is the likely bet.