Usman vs Masvidal 2 Predictions, Odds & Betting Sites for UFC 261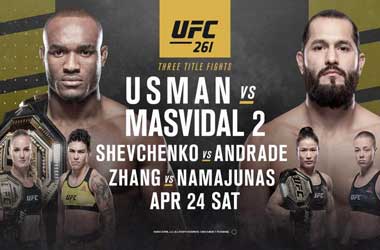 Thirteen months have passed since the Ultimate Fighting Championship hosted a full attendance of audience members. It was promised to supporters by UFC President Dana White that a pay-per-view promotion wouldn't be hosted until full capacity was permitted. That promise was held by White, as Southerners near Florida will travel to Jacksonville on April 24th to witness Kamaru Usman & Jorge Masvidal fight.
For supporters of Jorge Masvidal, this secondary matchup won't end positively. Analysts anticipate that Usman will overcome UFCs "Baddest Mother Fucker", as he did in March 2020.
It's been two years since Masvidal was last competitive and he's a fighter that's never achieved championship status. Subsequently, his defeat is inevitable at the Vystar Veterans Memorial Arena on April 24th, but that doesn't mean thousands won't be cheering his name in the stands, as tickets for UFC 261 sold out in two minutes, not exclusively because entertainment has been scarce during the pandemic, but because three championship-belt fights are being hosted.
The main event will witness Jorge Masvidal return to the octagon against Kamaru Usman, where results could beat analyst expectations. That's because Masvidal has had thirteen months to train in his latest weight division, which wasn't the case when first meeting Usman at UFC 251. The Ultimate Fighting Championship gave Masvidal five days to prepare against Kamaru, which meant cutting twenty pounds of water weight & without that physical limitation imposing on Jorge's skillsets, Usman could find himself losing the Welterweight Championship.
Best Online Sportsbooks To Bet On UFC 261
UFC 261 will see two championship-belt fights up for grabs in the UFCs female division and will mark the return of Valentina Shevchenko. This is a highly anticipated fight because her competitor is Jessica Andrade, a woman that defeated Katlyn Chookagian in October 2020, and will be interesting to see what combative strategies both have learned with their 6+ months of recent training.
The lesser championship belt matchup that's gaining attention is the Weili Zhang vs Rose Namajunas fight, which will see the Strawweight Championship likely awarded to Namajunas. Since this division hasn't become popular with a large percentage of UFC Supporters, President Dana White is highlighting this matchup as the co-main promotion. Funnily enough, it's a preliminary fight with Uriah Hall that's gaining interest amongst supporters, as fans have clamoured for the return of Uriah Hall, a potential champion for years.
We've highlighted the predictions, odds, and insights regarding UFC 261s highest-rated matches. For bettors anticipating what's supported to become a memorable event, our analysis will assist in obtaining large payouts.
UFC – Ultimate Fighting Championship
UFC261 Fight Analysis
Odds have been provided by Bodog and are accurate as of 16/04/2021
Kamaru Usman vs Jorge Masvidal
Odds to win: Kamaru Usman -400 / Jorge Masvidal +300
It's been ten months since supporters last witnessed the persona of Jorge Masvidal, a fighter that's regularly been compared to Conor McGregor. His last matchup was against Kamaru Usman in the welterweight division, which is a division that Masvidal hadn't ever competed in previously.
This resulted in an uncompetitive result from Jorge, leaving fans disappointed at the possible outcomes that were missed. The outcries of supporters were heard by UFC President Dana White, who rescheduled both men for another fight ten months after their initial bout. That timeframe has provided Masvidal with the training needed to successfully transfer into the welterweight division, meaning Usman's challenge will be significantly greater than at UFC 251.
Analysts are predicting that Jorge Masvidal will become the Welterweight Champion by April 24th, as Kamaru Usman has shown minor inconsistencies since February 2021. That's when Gilbert Burns grappled Usman to near submission but would eventually be overcome by strikes from the ground.
It'll be difficult for Usman to perform a similar strategy against Masvidal, a younger & faster fighter with improved stamina that also prefers MMA combat over wrestling. This doesn't mean Kamaru Usman would land multiple takedowns onto Jorge Masvidal, making UFC 261 likely the hardest matchup both men will have experienced to date.
Our Prediction: Jorge Masvidal Wins Second Fight Against Kamaru Usman.
It's been two years since UFC supporters witnessed the dominating and intimidating skillsets of Jorge Masvidal, which is aeons in professional mixed martial arts. However, most are forgetting that various circumstances that befell Masvidal since acquiring the "UFC BMF Award". It's likely that by training over ten months, the combative strategies needed to overcome Kamaru Usman have been attained by Jorge Masvidal. We're anticipating that over five rounds neither will be knocked down but that points will favour Masvidal over Usman.
Valentina Shevchenko vs Jessica Andrade
Odds to Win: Valentina Shevchenko -400 / Jessica Andrade +300
UFC President Dana White is working towards altering the champions lineup, as Kamaru Usman isn't the exclusive fighter that's been matched against a worthy opponent. A similar tactic has been imposed on Valentina Shevchenko, who'll defend her Flyweight Championship against Jessica Andrade. The overwhelming number of competitors that've been matched to Shevchenko isn't of champion-winning status, which changes for the first time in two years with Andrade.
Jessica Andrade is considered an aggressive fighter that pushes her opponents, with an average SPM (Strikes-Per-Minute) of 6.38 and can perform three takedowns per fifteen minutes. It's an impressive ratio that'll put Valentina Shevchenko into a difficult position and unless a flurry of punches knockdown Andrade, it's likely the Flyweight Championship will be lost to Shevchenko.
Zhang Wheili vs Jessica Andrade
Odds to Win: Zhang Wheili -190 / Rose Namajunas +155
The combative meeting of Zhang Wheili and Rose Namajunas hasn't gained prominent attention from sportsbooks or analysts. Both fights are relative unknowns in the "Ultimate Fighting Championships Strawweight Division". For Zhang Wheili, she'll be defending her championship-belt from Rose Namajunas after these women rose through the ranks via preliminary fights.
Regardless, it's anticipated this fight will be a wildcard that'll see either of these women standing victorious. Zhang Wheili has a longer-standing history in Mixed Martial Arts and posses strong striking capabilities. However, Wheili is formally trained exclusively in Brazilian Jiu-Jitsu. Rose Namajunas is trained in Brazilian Jiu-Jitsu, Taekwondo, and Karate. It'll mean her available assets will be greater than her upcoming opponent, who is three years older than Namajunas. Subsequently, realistic outcomes favour Rose Namajunas more than Zhang Wheili.