UFC 255 Betting Odds & Predictions For Figueiredo vs Perez Fight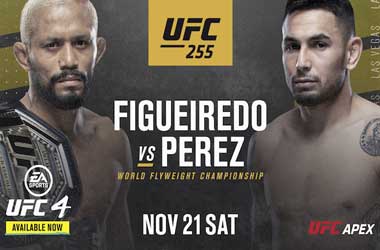 November 21st marks the Ultimate Fighting Championship's formal return to Las Vegas in the PPV setting. Divisional flyweight belts are being offered in a doubleheader, with Deiveson Figueiredo battling against Alex Perez for the initial fight.
Following Figueiredo and Alex Perez will see Valentina Shevchenko & Jennifer Maia entering the octagon. This is expected to be the more exciting battle of the evening, yet wither way you look at it, two of the four competitors will work towards winning their first UFC championship, while the remaining opponents will be focused on defending their champion status.
Alex Perez wasn't meant to compete against Figueiredo but was brought into contention after the former opponent backed down with Covid concerns. Perez is using the opportunity to highlight his namesake in an octagon setting.
However, that decision could prove unfavourable for Alex Perez. Deiveson Figueiredo has won five back-to-back fights against opponents that were meant to dominate over the Brazilian. The last of which was Joseph Benavides, a battle that resulted in the Brazilian earning a TKO victory. MMA analysts anticipate similar results from Figueiredo on the 21st.
Best Online Sportsbooks To Bet On UFC255
Co-headlining the night will see Valentina Shevchenko and Jennifer Maia fighting over one of two flyweight championship belts up for grabs. The one to watch is Valentina Shevchenko as she has been vicious during her octagon appearances and has a reputation for inflicting damage. It is expected that Jennifer Maia will likely experience a similar fate, and that has seen several questioning Maia on her strategic approach as Valentina Shevchenko has chosen to keep a low profile.
Hosting the PPV event is the "UFC Las Vegas Apex Centre", which was officially opened earlier this year during the Covid-19 pandemic. It'll mark the first time that the Apex Centre hosts a Pay-Per-View event, with the inaugural event, unfortunately, being absent of fans due to recent state legislation after Covid-19 cases increased.
UFC – Ultimate Fighting Championship
UFC255 Fight Analysis
Odds have been provided by Bet365 and are accurate as of 18/11/2020
Deiveson Figueiredo vs Alex Perez
Odds to win: Deiveson Figueiredo -334 / Alex Perez +250
Deiveson Figueiredo is unlike most contracted fighters in the UFC Roster. His skillsets dominate over opponents & display unrivalled versatility with Brazilian Jiu-Jitsu. Whenever viewers witness the onslaught of talent from Figueiredo, an explosive fighter with destructive bunches and substantial force with each kick, those factors combined with his accuracy rating creates concerns with anyone battling Figueiredo.
His last fight against Joseph Benavidez saw 95% of strikes landed, which is an accomplished few have sustained in their UFC careers. Most analysts and digital sportsbooks are expecting that Deiveson Figueiredo will stand victorious over his UFC 255 appearance. It's inevitable with Figueiredo being faster, more accurate, and more powerful than Alex Perez.
Alex Perez has one skillset more vital than Deiveson Figueiredo that analysts expect the American will employ against his Brazilian opponent. Alex Perez is an "All-American Wrestler" that's known for pinning opponents to the ground and successfully controlling the octagon via grappling momentum. If Perez hopes to be successful, he will need to survive the onslaught of punches and kicks from Figueiredo during the first round so that he can tap into his grappling skills with hopes of coming earning the win.
Our Prediction: Figueiredo to earn a TKO victory
Statistically speaking, oddsmakers have made the correct selections in which fighters are likely to win. Deiveson Figueiredo's octagon appearances and regular training has been far more extensive than Alex Perez, meaning the difference of stamina could impact the final outcome. Our prediction suggests that unless Perez can sustain grappling by round two, his energy will deplete by the third round and Figueiredo takes the win in the fourth.
Valentina Shevchenko vs Jennifer Maia
Odds to win: Valentina Shevchenko -1400 / Jennifer Maia +800
Valentina's last three matches resulted in back-to-back knockouts, which all came while she was the = female flyweight champion. Her previous bout against Katlyn Chookagian saw an overall accuracy percentage of 61% for Shevchenko, making Valentina one of the most effective and efficient striker in the modern era of the UFCs female division. Jennifer Maia will find numerous challenges in combatting the Muay Thai, and Kickboxing talents associated with Shevchenko and analysts anticipate that Shevchenko will dominate Maia similarly to the way she did Katlyn Chookagian.
However, supporters of Valentina shouldn't dispute the talents of Jennifer Maia, as she has her own formidable skillsets. Maia has won nine of the last eleven fights. However, she has an accuracy percentage of 39% and therefore is statistically a lower-ranked fighter than Valentina Shevchenko. That said, she still has the skills needed to put give Valentina a run for her money.
Our Prediction: Shevchenko to come away with the win
Predictions surrounding Valentina Shevchenko are considerably different. Analytic reviews for the Chookagian/Shevchenko bout in February 2020 put her behind. However, as we all know, Valentina was the one standing when all was said and done. Considering is still nursing injuries from the vicious beating she took, it is fair to suggest that Shevchenko will come away with a victory over Maia.