Miocic vs Ngannou 2 Predictions, Odds & Betting Sites for UFC 260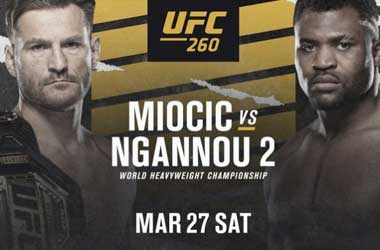 Three years have passed since the Ultimate Fighting Championship witnessed Stipe Miocic and Francis Ngannou battle for octagon glory.
In January 2018, the differences in their skillsets were undeniable after Miocic dominated Ngannou at UFC 220. It was a brutal experience that saw the reigning heavyweight champion landing over 70% of his strikes comparted to Ngannou landing less than 20%.
However, with the rematch set to take place on March 28th at the UFC Apex Centre, many UFC analysts are anticipating a different outcome in 2021. The reality is, Ngannou has improved his stamina and form, and Stipe Miocic is getting older.
Best Online Sportsbooks To Bet On UFC 260
Age will factor into the outcome of UFC 260 for Stipe Miocic. The reigning champion will have to change his style and incorporate new strategies if he hopes to dominate over Ngannou. Though this will the headlining matchup for UFC 260, additional fighters are battling for redemption, as Brian Ortega will battle against Alexander Volkanovski for the Featherweight Championship.
UFC 260 will mark the second fight for Brian Ortega since returning to the UFC after a two year absence. His fist fight saw him dominate over Chan Sung Chung, and analysts expect that Ortega will put up an intense fight but ultimately, with nineteen consecutive wins in a row, most do not expect Ortega to unseat Miocic.
Also competing on the 27th in a welterweight bout is Tyron Woodley and Vincent Luque. While not a title bout, it is anticipated one of the two will earn a future championship belt opportunity. Therefore, before the night arrives, let's take a look at the three main card fights.
MMA Sports Planet
UFC260 Fight Analysis
Odds have been provided by Casumo and are accurate as of 16/03/2021
Stipe Miocic vs Francis Ngannou
Odds to win: Stipe Miocic +110 / Francis Ngannou -130
UFC 260 will mark the fourth time that Stipe Miocic will defend a championship throughout his career, and this time, that will see him entering the octagon to face Francis Ngannou. This is the second time these men are meeting in the octagon, with their first matchup occurring in 2018 at UFC 220. This is an important fight for both, as the outcome of this battle will determine Miocic's future in the UFC as he nears the ripe age of 40. It will also be an opportunity for Ngannou to showcase his abilities and prove he is championship material.
Since Miocic has only defended his title once in the last 12 months, many feel he will be rusty from the lack of activity, and considering most titles are defended twice a year, Miocic's inactivity could impact his stamina. On the other hand, Ngannou has been active and working toward mastering his skills, evident of which is seen in his four consecutive knockouts.
Considering Stipe Miocic last recorded a victory in 2020, one that was my decision, Miocic will have to rely on his wrestling skills in hopes of controlling the fast-paced style of Ngannou. When you combine the differences in their fighting styles with the factor that Stipe Miocic is 39 and Francis Ngannou is 35, a victory favouring Ngannou is the likely outcome of UFC 260.
Our Prediction: Miocic earns the win by decision
Tyron Woodley vs Vincente Luque
Odds to Win: Tyron Woodley +210 / Vincente Luque -265
The return of Tyron Woodley's at UFC 260 has been anticipated amongst UFC fans. He was previously the most feared competitor in the welterweight division, but much has changed since retaining the welterweight championship for three years. While Woodley successfully defended his title in what was seen as four high-profile fights, Woodley's skills have dampened in the last five years, and that has resulted in the former champ racking up three back-to-back losses, and most are not anticipating that to change when he enters the octagon against Vincente Luque.
Multiple analysts suggest that the younger, faster, and more versatile fighter from Brazil will outmatch Woodley. A big part of that comes from Woodley initially spending a large part of his training focused on wrestling. However, he has continually focused on being a well-rounded MMA fighter, and statistically, his lack of wrestling skills will be his ultimate demise against the superior wrestling skills of Woodley.
Our Prediction: Woodley by submission
Sean O'Malley vs Thomas Almeida
Odds to Win: Sean O'Malley 1.28 / Thomas Almeida 3.60
The popularity Sean O'Malley has grown similarly to Connor McGregor's and that has made him a hot commodity in the UFC, and a desirable fighter for UFC President Dana White. There have been times when O'Malley has fought brilliantly, yet the overwhelming number of performances led many to question O'Malley skills and his ability to be a top contender. However, since his last few fights, O'Malley has made considerable improvements and the results speak for themselves.
The big problem for O'Malley though is Thomas Almeida fights in a similar manner to that of Marlon Vera, a fighter O'Malley took a serious beating that took a toll on his reputation. In terms of skillsets, Thomas Almeida is known for his fast-paced combinations that target the spine, knees, ribs, and kidneys. For O'Malley to be successful, he will need to stay clear of the combinations Almeida will throw and focus on taking control of the fight early on. If he does, and the oddsmakers think he will, O'Malley will take the win.
Our Prediction: O'Malley to earn the victory
UPDATE 24/02/2021: Volkanovski vs Ortega Fight Cancelled
The UFC have announced that after Alexander Volkanovski tested positive for Covid-19 in Australia, that the Ortega vs Volkanovski bout has been cancelled. Moreover, with the mandatory two-week quarantine, it is doubtful the UFC will be able to find two fighters in a position to agree to appear before the 28th.
Resultant on the update, we switched our focus to the Sean O'Malley vs. Thomas Almeida bout, another that is drawing attention from fans, and similarly has bookmakers favouring O'Malle.
Alexander Volkanovski vs Brian Ortega
Odds to win: Alexander Volkanovski -190 / Brian Ortega +155
Another top draw for UFC 260 will see Alexander Volkanovski defending his featherweight belt against champion Brian Ortega. If we agree with the analysts, this highly anticipated battle will likely see Ortega being crowned the new featherweight.
The reality is, the skillsets of Volkanovski have diminished in recent months, so much so that he lost this last fight against Max Holloway, a fight he should not have lost. However, Nevada's judging committee selected Volkanovski over Holloway, and that resulted in considerable criticism from UFCs President Dana White.
Volkanovski and Ortega will look towards displaying their skillsets as MMA Fighters in hopes of holding onto their contracts for 2022. Volkanovski is a talented fighter with a well-documented wrestling background, is known for his powerful strikes, and can defend better than most in the featherweight division. However, Brian Ortega is known for having the fastest and strongest submissions in the UFC, and that has seen him only losing one fight since going pro.
Moreover, Ortega is infamous for his high-end grappling skills and recently has begun improving his footwork. This has led analysts to predict that unless Alexander Volkanovski can pin Brian Ortega with his wrestling skillsets, Ortega will grapple the featherweight champion to submission in three rounds.
Our Prediction: Volkanovski to win by submission