Blachowicz vs Adesanya Predictions, Odds & Betting Sites for UFC 259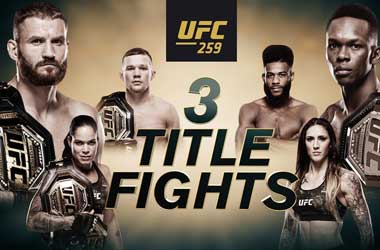 The Apex facility in Las Vegas will play host to UFC 259 on the 6th of March with an all-star studded cast of fighters that could cement one as the greatest fighters in UFC history.
The night will feature the who's who is the world of mixed martial arts fighting with Jan Blachowicz hoping to claim victory over Israel Adesanya in a lightweight title bout, while Amanda Nunes and Megan Andersson will enter the octagon in a women's featherweight title bout.
While UFC will feature two of the biggest names in men's and women's mixed martial arts, the main card will also feature Petr Yan and Aljamin Sterling in a bantamweight title bout. Completing the main card and the second pay-per-view fight of the year is two lightweight fights, one featuring Islam Makhachev vs Drew Dober and the other, Thiago Santos against Aleksander Rakic.
UFC 259 is going to be a major draw for the UFC as it is the first since January 2019 that we will see two champions fighting each other. The last time the UFC put together a fight like this was when TJ Dillashaw and Henry Cejudo met. However, this fight is far more interesting as it features a far more diverse selection of fights.
Best Online Sportsbooks To Bet On UFC 259
The headlining fight is, of course, Blachowicz vs Adesanya, yet with Nunes putting her title on the line, it is expected that viewers will see some epic battles in the octagon, and that is putting it mildly. If Adesanya succeeds, as everyone is predicting he will, he could end with being crowned one of the best fighters on the UFC.
While UFC 259 will feature multiple fights, we will focus on and analyse the three title bouts, Jan Blachowicz vs Israel Adesanya, Amanda Nunes vs Megan Andersson and Petr Yan vs Aljamain Sterling.
UFC – Ultimate Fighting Championship
UFC259 Fight Analysis
Odds have been provided by 888Sport and are accurate as of 02/03/2021
Jan Blachowicz vz Israel Adesanya
Odds to win: Jan Blachowicz 2.90 / Israel Adesanya 1.40
Israel Adesanya has already cemented himself as one of the greatest fighters of all time with a 9-0 record in the UFC. Add that to a professional 20-0 career, and clearly, this is a fighter that gets the job done. To date, Adesanya has yet to be tested with his last bout taking place at UFC 253 against Paulo Costa, and if the oddsmakers are correct, Blachowicz won't either.
That said, Blachowicz is no slouch and heads into the fight with an impressive record of his own, and in reality, he does have the skills to give challenge Adesanya. After racking up victories over Luke Rockhold, Corey Anderson and a knockout victory over Dominick Reyes, with some luck, Blachowicz could be the first to walk away with a victory against the Nigerian, although it is unlikely.
For Blachowicz, he will need to defend against Adesanya's unique fighting style and superior striking skills. The seasoned fighter is calculating in the octagon and is known for being patient and waiting for the right moments. As for Adesanya, he will need to steer clear of the hard-hitting Blachowicz and avoid his superior jabbing and boxing skills.
Our Prediction: Adesanya will win by submission
Amanda Nunes vs Megan Andersson
Odds to win: Amanda Nunes 1.08 / Megan Andersson 7.50
When it comes to women fighters in the UFC, no other generates the same level of interest as Amanda Nunes. At 32, Nunes has won her last eleven fights, with eight of those being title fights in the UFC. In her most recent fights, Nunes has scored wins in both the bantamweight and featherweight division. Her most recent wins include Holly Holm, Germaine de Randamie, Cris Cyborg and Felicia Spencer.
The reality is, Nunes is by far the greatest women fighter to step into the octagon, and Anderson is going to find out why. However, Nunes is a smart fighter and knows Anderson is the logical contender to take away her belt. With back-to-back wins against Zarah Fairn and Norma Dumont, she has racked up her own impressive 10 -30 resume.
Our Prediction: Nunes will win by knockout
Petr Yan vs Aljamain Sterling
Odds to win: Petr Yan 1.63 / Aljamain Sterling 1.95
After successfully defeating Jose Also and winning the bantamweight title at UFC 251, Petr Yan will be defending his title for the first time against Aljamain Sterling. Initially, Yan and Sterling were scheduled to fight in December at UFC 256, but the fight was cancelled after Yan was pulled from the card.
One thing is certain, Aljamain Sterling will face an uphill battle against Yan, a fighter known for his striking capabilities. While Yan averages over six strikes a minutes and lands no less than 50% of them, what's more concerning for Sterling is in Yan's last six fights, he has been consistent with his takedowns and has proven his skills as a solid mixed martial artist.
However, Yan needs to be wary of Sterling, as the two are similar in strength and their capabilities in the octagon. Sterling is also known as a striker and averages almost five strikes a minute and, similar to Yan, averages a 50 percent success rate. While Sterling has racked up more losses than Yan, several of those were by narrow split decisions.
Likewise, in his eleven UFC fights, Sterling has scored at least one takedown, and that makes this one a close one to call. However, if we are to follow the oddsmakers' wisdom, the end conclusion will see Yan retaining his title.
Our Prediction: Yan to win by decision