The French Open 2020 Men / Women's Betting Preview & Latest Odds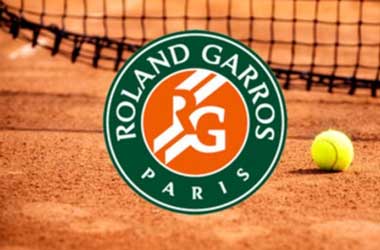 September 21st saw dozens of international athletes compete at the French Open, weeks after completing the US Open in America.
It marks the second prominent tournament since the COVID-19 pandemic alternated how professional tennis is engaged; there were forced postponements for multiple competitions. Members of the "Association for Tennis Professionals", and the "Women's Tennis Association" will compete from September 21st to October 11th.
Multiple competitors have terminated their presence at the French Open, including Milos Raonic from Canada & Belinda Bencic from Switzerland.
Concerns surrounding the coronavirus have been cited for these athletes, and the removal of Belinda Bencic means that 6/10 WTA competitors aren't participating in 2020's French Open. It should also be mentioned that Naomi Osaka, Bianca Andreescu and Ashleigh Barty have excluded themselves from the French Open tournament.
Best Online Sportsbooks To Bet On The 2020 Roland Garros
The French Open is held typically between May & June, with postponements being implemented to curve the spread of COVID-19.
Rescheduling dates were pushed to September, with organizers hoping that the virus would've been eliminated after three additional months. Multiple ATP & WTA athletes have refused to compete in any tournament this year, which forced the iconic Wimbledon tournament to become cancelled.
Serena Williams & Rafael Nadal are likely to win the French Open in their respective divisions. Naomi Osaka would've been the best selection under WTA Division after her victory at the US Open. However, the Japanese athlete excluded herself from the French Open with issues with hamstring and time to prepare. It prompted Serena Williams into 1st, with her return to professional tennis in New York state. Serena was the bookies-favourite to win the US Open but didn't achieve her 24th Grand Slam title. Supporters of Serena hope she'll acquire a 24th Grand Slam victory at the 2020 French Open.
A large percentage of athletes have decided to remove themselves from the tournament is the "14-Day Quarantine Protocol" that all competitors must employ. Anybody that competed at the French Open required four weeks of quarantine, with the initial two weeks sustained in France & the remainder back home. This meant selecting from one of three tournaments, with those missing the French Open, competing in the US Open or Rome Masters.
Tennis Now
Odds have been provided by 888Sport and are accurate as of 25/09/2020
Men's French Open – Contenders
Rafael Nadal
Odds to win: 1.01
The 2020 ATP Season has benefited Rafael Nadal, reaching multiple finals & unfortunate losses. Rafael Nadal first competed in the 2020 ATP Cup for Spain, losing to Novak Djokovic for Serbia. The 2nd highest-ranked player in the Association of Tennis Professionals next competed at the 2020 Australian Open, losing to Dominic Thiem after four sets. Victory wouldn't come for Rafael Nadal until the 2020 Mexican Open, where he'd defeat Taylor Fritz during the finals. That victory would be short-lived after Diego Schwartzman defeated Nadal at the Italian Open. It is still expected that Rafael Nadal will stand victorious of the 2020 French Open with his 13th Title.
Novak Djokovic
Odds to win: 1.01
The ATP Tours 1# ranked athlete has obtained six notable victories. This includes defeating Rafael Nadal at the 2020 ATP Cup Tour, and Roger Federer at the 2020 Australian Open. These victories meant Novak Djokovic dominated over two long-time rivals. Victorious accomplishments continued during the Cincinnati Masters, where Novak Djokovic would obtain his 35th ATP Masters & equal Rafael Nadal's historical record. The last tournament that Novak Djokovic won was the 2020 Rome Masters, where he defeated Diego Schwartzman & gained his 36th ATP Masters.
Attila Balazs
Odds to win: 1.22
This Hungarian ATP tour member hasn't sustained a formidable career. However, considerable improvement has been seen behind the 31-Year-Old professional. It's unlikely he'll reach the Quarter or Semifinals but during the opening rounds, has sustained a 1.22 Odds to Win. Attila Balazs has maintained five wins & four losses within the Association of Tennis Professionals, with his Career Index at 0.574.
Dark Horse: Mickael Ymer
Odds to win: 26.00
Mickael Ymer is a Swedish & Ethiopian ATP tour member, sustaining a unique heritage. The Ymer Family's popularity is growing, with their prominent rise throughout the ATP grabbing the attention of bettors. Mickael Ymer is twenty-two and sustains victorious over two "European Under-18 Tennis Championships". There are more losses for Mickael than wins, with his Singles Ranking at 73#. His Odds to Win are unlikely at 26.00.
Womens's French Open – Contenders
Similar to the men, the French Open play host to top competitors in the WTA. Naturally, the most predominate and anticipate is Serena Williams, who continues to push forward as she nears the end of her competitive career in tennis. That said, others making a surprise appearance in our list of contenders is Jill Teichmann, winner of the Palermo International.
Serena Williams
Odds to win: 1.07
The most dominating personality competing in the 2020 French Open – WTA Division, is Serena Williams. She is favoured to win at the majority of sportsbooks, with Serena maintain 23 Grand Slam Championships. It was anticipated that Williams wouldn't compete after losing to Victoria Azarenka in the US Open Semi-Finals. She shocked fans by announcing her contention & desire to obtain a 24th Grand Slam Championship, which won't be easily managed for the ageing superstar.
Victoria Azarenka
Odds to win: 1.13
The 2020 WTA Season has marked the return of Victoria Azarenka, with victories over Elise Mertens & Serena Williams allowing her Odds to Win with bookies to grow. Defeating Williams saw Victoria Azarenka compete in a Grand Slam Final for the 1st time in several years. The 2020 Italian Open saw Venus Williams & Sofia Kenin also get defeated by Victoria Azarenka. She is one of the few WTA athletes to have beaten both Williams sisters. Victoria would ultimately lose the 2020 Italian open to Garbine Muguruza during the Quarterfinals. Her victories have enabled a 1.13 Odds to Win, Victoria's highest to date with digital sportsbooks.
Jill Teichmann
Odds to win: 1.74
The 2020 WTA Season saw Jill Teichmann earn her first victory during the Palermo International. Jill defeated Kiki Bertens during the 2020 Palermo International in July, a first Top 10 Victory for Teichmann. It's given her some representation during the French Open when competing against Irina-Camelia Begu, with Jill Teichmann expected to stand victorious. Additional victorious for Teichmann include the 2020 Prague Open in May 2019, where she defeated Karolina Muchova.
Dark Horse: Danka Kovinic
Odds to win: 6.40
Danka Kovinic was an unlikely presence for the 2020 French Open, shocking competitions initially this year when returning for the 2020 Australian Open. It marked the 1st time in six years that Danka Kovinic registered for the Women's Tennis Association. She'd lose to Elise Mertens during the 1st Round of the Australian Open, holding hope that she'll defeat Victoria Azarenka in Qualifying. Seeing Danka Kovinic dominate during Qualifiers isn't likely.
Our Prediction
There are multiple factors to consider when looking towards who'll likely win the 2020 French Open in the ATP & WTA Tour. The men's divisions favourite to win is Rafael Nadal, and skillsets displayed throughout 2020 lean towards his victory. The female's division is likely to have Serena Williams stand victorious, obtaining her 24th Grand Slam Victory. Williams will have notable competition from Victoria Azarenka, the second crowd favourite.