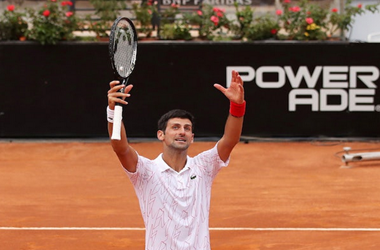 It was only two weeks ago that Novak Djokovic was forced out of the U.S. Open after breaking his racket and receiving a warning from the chair umpire. The semifinal match against Casper Ruud on Sunday almost looked like Djokovic could see a repeat performance at the Italian Open.
The warning came after Novak Djokovic was heard uttering obscenities before holding on to defeat Rudd in two sets. Djokovic is known for his behaviour on the court and his tendency to lose his temper. Unfortunately, it is part of the star's personality and beyond his ability to control, even if he does his best in the heat of the moment.
It was midway through the second set that Djokovic was given a warning for obscenities. The main difference on Sunday was a limited number of fans were in attendances and could hear the star player dealing with his frustrations with a slew of choice words. Commenting on his outburst, Djokovic said,
"I don't want to do it, but when it comes, it happens. That's how I, I guess, release sometimes my anger. And it's definitely not the best message out there, especially for the young tennis players looking at me. I don't encourage that – definitely."
Tennis TV
The outburst, unfortunately, overshadowed the brilliant tennis Djokovic played. It was a match that saw him having to battle over two set points after Rudd took a surprising 5-4 lead over the Serbian. One of those included a winning drop shot, and that was in part the build-up to the obscenities coming from Djokovic.
Djokovic, who is ranked No.1 in the world, managed to retake the lead after serving five aces over the course of a single game. Rudd, who is from Norway, was playing his first semifinal at a Master's 1000 event. A student of Rafael Nadal's tennis academy put up a strong fight against Djokovic but was unable to gain an advantage over the superior play tactics and skill of Djokovic. His efforts were not lost on Djokovic, who was seen giving Casper Rudd a thumbs up after he returned with a shot over his shoulder to win a match in the second set.
Djokovic's frustration spilled out during the third match of the second set. After already having words with the chair umpire over several calls he disagreed with, the umpire was less than an understanding of his choice of words. However, Djokovic is continuing to improve on his record for the year and has only one loss to his record. That came as a result of being ejected from the U.S. Open after he accidentally hit a line judge with a ball during his Pablo Carreño Busta match in the fourth-round.
In ten appearances in the final at the Italian Open, Djokovic's has won four and lost six, four of those back-to-back. Heading into the final he will face the winner of the Diego Schwartzman vs Denis Shapovalov semifinal. For bettors, Djokovic will be hungry for the win after the U.S. Open fiasco, and with multiple sportsbooks offering superior odds in his favour, the timing to register with Sports Interaction is ideal.
In the women's tournament, Simona Halep will be heading into her third appearance in an Italian Open Final after she defeated Garbiñe Muguruza in two back-to-back sets to improve her 2020 season. Halep will face either Markéta Vondroušová or Karolína Plíšková on Monday depending on who wins their semifinal match. Halep, who is ranked second in the world, is only now returning to form after taking an extended break due to the pandemic. Her last win came last month in Prague but resultant on the conditions in the U.S, she opted out of the U.S. Open.