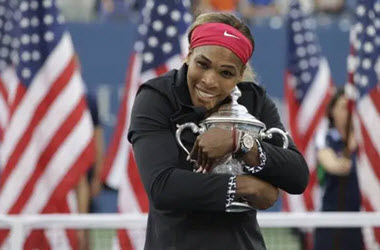 Serena Williams has been a dominant force in the game of tennis, both on court and also off. In the last decade, no other player has Williams has won as many Grand Slams, 12 to be exact, nor has any women in tennis spent over three years as the No. 1 ranking WTA women's player.
However, while a star on the court, she is also one off the court earning the status of a celebrity due to her sense of style. That staus also was resultant of the tribulations she endured, in part a result of her pregnancy and battle to return to professional tennis. Serena Williams has graced the covers of magazines, started in multiple commercials for her many sponsors and appeared in a Super Bowl ad that promoted the power of women and their role in society.
Williams is one of the rare players to extend her Grand Slam winning talents into her 30's, and that was evident at this year's U.S. Open and in part what led Associated Press members, writers and editors on Saturday to award her the Athlete of the Decade. CEO of the WTA Stacey Allaster commented on the honour bestowed upon Williams stating,
Good Morning America
"When the history books are written, it could be that the great Serena Williams is the greatest athlete of all time. … I like to call it the 'Serena Superpowers' — that champion's mindset. Irrespective of the adversity and the odds that are facing her, she always believes in herself. Whether it was health issues; coming back; having a child; almost dying from that — she has endured it all and she is still in championship form. Her records speak for themselves."
The 2019 Associated Press Female Athlete of the Year, Simone Biles, placed a close second in the voting and in third was Katie Ledecky. Lindsey Vonn finished fourth in the votes, and Mikaela Shiffrin placed fifth, both of whom are professional ski racers.
Serena Williams won the Associated Press Female Athlete of the Year award three times in the last decade with her first coming in 2013, her second in 2015 and the third in 2018. However, in her career, she also won Athlete of the Year Awards in 2002 and again in 2009 for a total of five. That was not lost on Simone Biles, who commented that Williams was one of her idols while growing up. The gymnast added,
"She's remained humble. She's stayed true to herself and her character and I think that's really neat about an athlete. Once you start winning, some get cocky, but she's stayed true to herself, win or lose."
One of the driving factors of success for Williams is her losses, each of which seems to drive her towards greater achievements that few if any other athletes have managed to do. Speaking to the AP in 2013 on her determination and drive, Williams stated,
"Whenever I lose, I get more determined, and it gives me something more to work toward. I don't get complacent, and I realize I need to work harder and I need to do better and I want to do better — or I wouldn't be playing the game."
To date, Williams has won more Grand Slams in the sport of tennis than any other player, including those playing in the men's circuit. Her constant covering of the court and strong groundstrokes have helped her achieve 23 Grand Slam trophies. Of those 23, just over 50% came between 2010 to 2019 and included four Wimbledon titles, three Australian Open titles and three U.S. Open titles. She also placed runner up in seven other major events with four of those coming after returning from the birth, and subsequent extended leave, of her daughter in 2017.
Williams, who has 37 career singles titles, is the oldest women ever to win a Gram Slam, won gold medals in the Olympics and made it to at least one Grand Slam event since 2007 summed it up best in 2016 after winning at Wimbledon when discussing her mindset on and off the court stating,
"I definitely feel like when I lose, I don't feel as good about myself, but then I have to, like, remind myself that: 'You are Serena Williams!' You know? Like, 'Are you kidding me? and it's those moments that I have to just, like, come off and be like, 'Serena, do you know what you've done? Who you are? What you continue to do, not only in tennis (but also) off the court? Like, you're awesome."