Wilder vs Fury II Boxing Prediction & Odds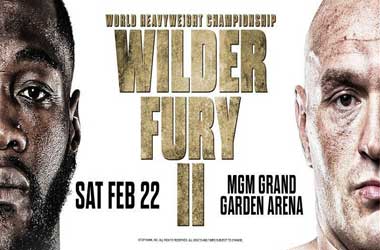 Deontay Wilder and Tyson Fury are set to take the world by storm at the MGM Grand in one of the most talked about rematches in boxing on the 22nd of February.
The fight is being offered for Pay-Per view and also will be broadcast live on ESPN and Fox, and after Wilder managed to survive a December 2018 knockdown to Fury, it is expected to generate major attention.
Both Wilder and Fury are known for the trash talking, and each is undefeated in their professional boxing careers.
That tasks the oddsmakers with the challenge to determine which is favoured to win the bout as Wilder is 42-0-1, 41 KOs while Fury has a 29-0-1, 20 KOs record. However, it is clear that Fury is the slight favourite, if only by a slight margin.
The reality is, whichever boxer wins not only will walk away but will look to take on two-time unified heavyweight champion Anthony Joshua. As fight night is less than a week away, let's take a look at both fighters and see who we think will walk away with the win.
Best Online Sportsbooks To Bet On The Wilder vs Fury Rematch
Top Rank Boxing
This bout has most oddsmakers split over who is going to come away with a victory. Deontay Wilder is slightly being favoured in part for his ability to be patient as he displayed in his rematch against Luis Ortiz in November of last year. However, pound for pound, the two are pretty evenly matched, and while the odds we have posted do not reflect each analyst prediction, looking at the two a little closer will help justify over feelings on who we think will come out on top.
Pound for Pound Analysis
* Odds have been provided by Sports Interaction and are accurate as of 17/02/2020
Deontay Wilder
Odds to win: 2.01
Deontay Wilder has been a force to reckon with in boxing. While he nearly lost in his fight against Luis Ortiz in Match of 2018, he fought back with a vengeance and put Ortiz on the mat, not once but twice, a feat that Wilder has stated would have resulted in a knockout has he not been sick just prior to the fight. The reality is, Wilder is a puncher and has amassed a very respectable record, and is known for taking time to find the weak spots of his opponents. That strategy has proven successful as many have felt the power in his punches, just ask Tyson Fury.
When comparing Wilder to Fury, in terms of wins, Wilder is the better fighter with a great number of victories, and in terms of weight, height and age, the two are pretty evenly matched with Fury having a two inch height and reach advantage, which is minimal and will not have much if any impact on the outcome.
Tyson Fury
Odds to win: 1.79
Tyson Fury is no slouch in the ring and Wilder is well aware of the danger he will present when the two face off on the 22nd in Vegas. Fury is not your average boxer and is known for being tactical, fancy footwork and solid punching to get the job done. He has amassed twenty know outs in his career and nearly succeeded in his last bout with Wilder and might have if not for an error in the 9th round. At 31, Fury has shown that his abilities suffer little from periods of inactivity and he has a solid opportunity of winning the belt if he focuses on what lies ahead versus working the public.
The big challenge for Tyson will be to combat the strategy that Wilder employs in giving away rounds as he sizes up and looks for his opponents' weak spots. It will be an opportunity for Fury to score some solid punches and hopefully weaken Wilder in the process before he finds any of those weak spots. Yet with Fury planning to change up his style, Wilder may have more of a challenge on his hands than he anticipates and it could be his downfall.
Our Prediction: Fury to win
This fight will be a far different battle than the last time the two got into the ring together and predicting the outcome is not an easy task as both are solid boxers technically and similarly, both are solid punchers, and while Wilder has a slight advantage in the punching side of things, it is expected that Tyson Fury will once again come out and dominate and immediately begin earning points.
Our instincts are leaning towards Fury to win, and it is where we will be putting our money as ultimately. While Wilder has skills and is a solid pound for pound fighter, we feel the skills in Fury's arsenal are superior and will be what makes the difference at decision time.