Wilder vs Ortiz II Boxing Prediction & Odds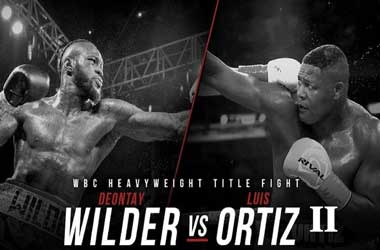 One of the most anticipated rematches in boxing is about to take place on November 23rd. Deontay Wilder and Luis Ortiz are meeting for a sequel, with Ortiz looking to claim the WBC World Heavyweight Championship Division.
Fox Sports are hosting this pay-per-view event at MGM Grand in Las Vegas.
The last time Luis Ortiz and Deontay Wilder fought one another was in March 2018. The two fought one another equally, trading blow after blow at the Brooklyn Barclay Centre.
It's considered to be one of the most-watched fights of the last decade, with the screams and cheers of fans heard across the Brooklyn Borough. Things have changed over the previous 20 months, with Wilder now having Forty Knockouts and Ortiz holding 26. However, Ortiz is far larger than Deontay in muscle mass, which is anticipated to assist Ortiz for the World Championship.
Best Online Sportsbooks To Bet On The Wilder vs Ortiz Rematch
Selecting which online sportsbook is best for betting on the upcoming battle can be challenging. Oddsmakers have been favouring Deontay Wilder for the win, with sports analysts estimating that Luis Ortiz will win their second battle. Below we have provided multiple sportsbooks favouring both fighters. The odds listed in this article don't reflect all sportsbooks advertised.
Motivedia – Boxing
Pound for Pound Analysis
* Odds have been provided by 888sport and are accurate as of 19/11/2019
Deontay Wilder
Odds to win: +105 (Rounds One to Six)
Deontay Wilder was the victor for the March 2018 Brooklyn fight. He almost lost the battle when Luis Ortiz sent a barrage of blows on the Seventh Round. Wilder came back and knocked down the formidable heavyweight twice in the tenth round. However, Deontay Wilder claims that he would've knocked out Ortiz if it wasn't for a sickness he was battling before the matchup.
Subsequently, Wilder anticipates a faster and more impressive battle at the MGM Las Vegas Casino & Resort. It's expected that both Ortiz and Wilder will adjust their fighting styles for the upcoming contest, which will increase the chances of a knockout before round six.
Deontay Wilder, in his barrage of public statements, has mentioned that he will defeat Luis Ortiz, that he isn't a concern and should be afraid of what's to come on the 23rd. Wilder sarcastically mentioned that he could do what other fighters couldn't to Ortiz while he had the flu and that the Cuban Prized fighter is a joke.
Luis Ortiz
Odds to win: +1000 (Rounds One to Six)
Training camp has officially ended for Luis Ortiz, with the prized fighter thrilled with the physical and mental results. Known for his southpaw swing, this middle-aged Cuban fighter is in his best physical shape since professionally boxing. He enters the upcoming match stronger than ever before, ready to compete against Wilder, who hasn't ever once been knocked out.
It should be noted that Ortiz is the only fighter who has come close to taking the championship from Wilder. Sports analysts anticipate that the change in weight is to assist Ortiz with landing hefty blows, which could knock Wilder back to the ropes. Regardless of what happens, this upcoming matchup will be one of the most memorable in recent memory.
Our Prediction: Wilder to win
After considerable deliberation, we believe that Deontay Wilder will defeat Ortiz on November 23rd. Even though Luis Ortiz has increased his weight size, most are forgetting that Deontay hasn't ever been knocked out in the ring.
People also forget that with larger weight sizes, means slower punches and stamina being spent faster. Deontay will be faster than and have larger amounts of stamina, which means he can last the ten rounds easily and Luis Ortiz cannot. Subsequently, Deontay will lay more punches and get more points to win this fight.