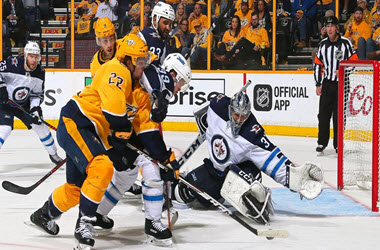 The Winnipeg Jets are set to play Game 7 tomorrow night at 8 pm in Nashville. Anticipation is high for the team and its fans, as is the excitement that lays ahead, let alone nerves.
The Jets and Predators have gone back and forth throughout the series. The Jets won game 1, Nashville took game 2, the Jets game 3, Nashville game 4, Winnipeg regained the lead in game 5 only to see the Predators come back and win game 6.
As the Jets returned to home ice advantage, and one of the best "at home" records in the NHL this season, anticipation was high that Winnipeg would win and advance to the Eastern Conference Finals against the Vegas Golden Knights. However, this would not be as the Predators dominated the game winning 4-0.
Yet, for Paul Maurice, there is something different in the air as they prepare for Game 7 and which will move on the finals and which will head off to clear out their locker room.
Commenting ahead of tomorrow's game, Maurice said,
"There's absolutely a different feel, it's the final game for one team. There's definitely a calmness to it. There's a finality coming. It brings out the best."
The series has been a slugfest of sorts with neither of the two dominating for more than one or two periods. For the Winnipeg Jets, tomorrow night is about getting back to playing their best and coming away victorious.
Maurice said that the deciding factor will be simplicity adding,
"The team that can play as close to their game as possible — their identity game — wins."
Whoever wins tomorrow will face the Vegas Golden Knights after they beat San Jose in Game 6 last Sunday. The difference for the Knights is having an extended break to heal, rest and prepare.
#NHLJets, Preds a rollercoaster ride that fittingly goes the distance. #NSHvsWPG

READ: https://t.co/duZqole3XY

— Winnipeg Jets (@NHLJets) May 8, 2018
The Predators made it to the Stanley Cup finals last year only to suffer defeat to the Pittsburgh Penguins. This is a year they hope to get redemption, but if Winnipeg has anything to say about it, that redemption will be denied to the Presidents' Trophy winners.
What is fact is that neither team has been able to win to back-to-back games and with both teams being powerful contenders, it is near impossible to predict the outcome of tomorrow's Game 7.
The Jets are a faster team, but younger and less experienced in playoff games. The Predators are battle-hardened veterans and know how to push and get ahead.
Speaking about what needs to be done, Paul Statsny, who is the most experienced Winnipeg player when it comes to playing the playoffs having three Game 7's under his belt said,
"We've been prepared well and done a good job of fixing the things we have to fix in a loss and throwing it away and starting fresh. No one likes to lose, no one likes to be around guys when you're losing.
He added that as a team the Jets have been good at "not getting too high or too low after games and always focusing on the next one."
However, Nashville has gone the distance multiple times in the playoffs in the last two seasons, and Nashville's Nick Bonino has played in five as have Mike Fisher and P.K Subban both having gone the distance four times in their careers.
For Coach Laviolette, he is just glad his guys have experience stating,
"I'm glad our guys have some experience, I'm glad they've got some scars on them. Scars make you a little bit tougher. But at the end of the day it still comes down to those 60 minutes"
On Thursday, @BrdgstoneArena will host a Game 7 for the first time. #StandWithUs | #WPGvsNSH https://t.co/wW6piYyEJz

— p-Nashville Predators (@PredsNHL) May 9, 2018
Game 7 will get underway tomorrow at 8pm at the Bridgestone Arena. The battle is far from over as Game 7 is a do or die for both teams and whoever comes out on top will have earned it, and whoever takes the win, the battle ahead will be far from over as the Vegas Golden Knights have proven themselves to be serious contenders and a force to be reckoned with.