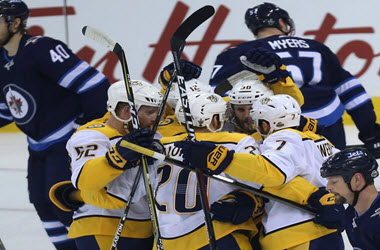 Blake Wheeler knew this series against the Nashville Predators would not be a walk in the park and not for a minute did the Jets believe they would have it easy.
The only expectation they had was that they might have more to show than they have so far. The third period saw the Winnipeg Jets not take a shot on goal for the first 12 minutes of action leaving the Jets disappointed in their close loss last night. They had their chance to be 3 games to 1 after going up 2-1 in Game 3 but failed to get the job done.
Nashville managed to tie up the game in a series that has seen them one game behind constantly in the chase mode. Now they are in a position that could see them take the lead in Game 5 and the Jets switching places and being the chasers.
Speaking about returning to home ice, Peter Laviolette, coach for the Predators said,
"We go back home, it's a best of three now, and our guys will be ready to play."
This was the first loss on home ice for Winnipeg since the 27th of February, and it was the Predators that they lost too. Last night's win was a pivotal moment for the series that may change the outcome and give Nashville the drive to push ahead.
Said Wheeler,
"We just got chasing a game against a team that was desperate and needed a win."
Sportsnet
The game last night was one that had both coaches promising to show their teams identity. However, it seems the Jets may have failed to do just that. The lack of energy in the third period gave Nashville the chance they needed, and they took advantage of it, and in the playoffs that is what wins games.
Nashville chose to play less aggressively last and instead focus on skill and speed. For Winnipeg's Bryan Little, he compared it to playing pinball saying,
"They played a really simple, good defensive game. Everything they touched … they were working that high flipper pretty good and then we were just skating into a wall again. We've got to find a way to beat that."
The Jets will need to find the right mix to beat the Predators going back to Nashville for Game 5. The fans are intense in Music City and for Blake Wheeler, he felt that at times the Jets were stubborn saying,
"They had five guys behind the red line and we were a little stubborn. We didn't want to make them turn around and bring the puck out … It's just what the night called for. It was tough. They really got the bounce in the first and they were really committed to play and clogging things up."
Predators coach Laviolette change tactics last night choosing to sun Scott Hartnell, an NHL veteran for the younger Kevin Fiala. The move raised eyebrows but Hartnell is a physical player and with a change in the attack plan, it was the right choice.
P.K Subban's line once again delivered a goal during a power play. In post-game interviews, P.K Subban commented that,
"We're heading back home to play in front of our fans. We'll take that, we know they're going to be better as the series goes on. In this position, I think this is where both teams expected to be."
At the end of the series, it may be one that goes the distance, and for either team, going 7 games is not favourable. The Jets went from attack mode to vulnerable mode and now will be fighting uphill.
Bryan Little added that the Jets knew Nashville would give their all stating,
"They played a really good defensive game and gave us some trouble tonight. It's back to the drawing board in Nashville."
The series now heads back to Nashville for Game 5, and will return to Winnipeg for Game 6, and if needed, Game 7 will see the teams heading back to Nashville.