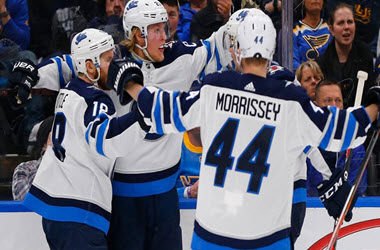 The Winnipeg Jets got back on track last night doing exactly what they wanted to do along, stick to the game plan and win games.
Kyle Connor scored two goals to help drive the Winnipeg Jets to their first win in the series and reduce the St. Louis Blues lead to 2-1. Also scoring was Patrick Laine, Kevin Hayes and Brandon Tanev. Dustin Byfuglien, Andrew Copp, Patrick Laine, Bryan Little, Josh Morrissey, Mark Scheifele, Jacob Trouba and Blake Wheeler all earned assists, and Connor Hellebuyck stopped 26 shots.
The Winnipeg Jets has lost the first two games, but those were all one goal games, and for Kyle Connor, he felt the team needed to just tweak things a bit. Commenting, he stated,
"As a whole, we played the right way for (the first) two games. Tonight, it was nice to have everyone contribute."
The series will now return to St. Louis for Game 4, and for punters, it is the perfect opportunity to rally their bets behind the Winnipeg Jets with leading sportsbooks like Bet365, a leader in sports betting entertainment.
Sportsnet
Kyle Connor, while speaking to the media post-game continued with his comments adding that he feels the team is building every shift and every game in the series. He added,
"We're getting close to our game and it's pretty dangerous."
Alexander Steen, David Perron and Vladimir Tarasenko scored for the St. Louis Blues. Jordan Binnington stopped 23 stops, and Alex Pietrangelo, Jordan Binnington and Joel Edmundson had assists.
David Perron scored the first goal of the game during a power play last in the first after whipping a shot past Connor Hellebuyck. However, Winnipeg came to tie and eventually went ahead in the second period after scoring three goals in just over four minutes of play.
That blitz started when Kevin Hayes took a shot through traffic that made its way past Jordan Binnington. Patrik Laine scored his third of the series after he picked up a pass from Jacob Trouba, and Kyle Connor scored his first of the night moments later with a wrist shot on point while the Jets were on a power play.
Vladimir Tarasenko managed to score in the third period and reducing the two goal leads to one, but Winnipeg responded with both Dustin Byfuglien and Brandon Tanev scoring at the midway mark to extend Winnipeg's lead to 5-2. Commenting on the night, St. Louis's David Perron said,
"Tonight was not really our team, obviously. We weren't happy with our effort. We didn't play a good game. But we've got to give them credit."
Winnipeg's Patrik Laine has managed to score in each of the three games. The forward, who scored 30 goals in the regular season and has 30 assists commented that,
"We just stayed within our game and tried to play it simple. We got going and just tried to keep our foot on the gas the whole 60 (minutes)."
Connor Hellebuyck played a big part of keeping St. Louis at bay stopping big shot after big shot including one just before Brandon Tanev scored for the Jets. Jordon Binnington also made some impressive saves in the first period after denying Kevin Hayes, Mathieu Perrault and Bryan Little.