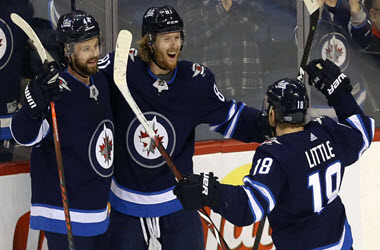 The Winnipeg Jets earned their sixth straight win on home ice last night after coming away with a victory over the Columbus Blue Jackets at the Bell MTS place arena in Winnipeg.
Winnipeg managed to come from behind after going down 2-1 in the second period, but panic was far from the mind of Mason Appleton who reduced Columbus's one goal advantage tying the game 2-2 with 6:39 remaining in the second.
That mindset has helped the Jets in the past, as it did against the Bruins last Tuesday, and was instrumental in helping them last night against the Columbus Blue Jackets as they ended the third period 4-3. Commenting on the Jets confidence, team captain Blake Wheeler said,
"We've done it enough this year that we have a lot of confidence that we know we don't have to change our game. We can continue to play the same way for 60 minutes. We're going to generate enough chances. It's just a matter of finishing them. Some nights they're going to go in, and some nights they're not."
The win on Thursday saw Winnipeg's at home win streak increase to six and gave Columbus their fourth loss in a row. Scoring for the Jets was Blake Wheeler, Mark Scheifele and Jack Roslovic, and earning assists was Jacob Trouba with two, while Andrew Copp, Brendan Lemieux, Bryan Little, Joe Morrow and Tyler Myers earning one each. Connor Hellebuyck has 28 saves for the night.
Sportsnet
Atemi Panarin scored for Columbus as did Josh Anderson and Oliver Bjorkstrand with Panarin and Bjorkstrand both earning an assist. Seth Jones also scored and Nick Foligno, Ryan Murry, Alexander Wennberg received assists. Goalie Sergei Bobrovsky has 22 saves for the Blue Jackets.
The Blue Jackets took control last night in the second period, but it was a lead that was short lived as Roslovic tied it just over five minutes later with a shot to the upper corner during the final seconds of a power play. Commenting on the disappointing loss, Nick Foligno said,
"It sucks to lose that way in the last minute. Guys played really hard, played to our identity tonight and just doesn't sit well with me getting scored on late like that."
Kyle Connor of the Winnipeg Jets scored the winning goal with 1:14 remaining in the third after picking up a pass from Bryan Little that he put past the stick of beat Bobrovsky. Connor, in post-game interviews stated,
"The puck got rimmed down low to Bryan and he made an incredible pass on his backhand there and found me in the slot. Just tried to get it off quick."
Cam Atkinson, Columbus's top scorer, took a puck to the face last night while the Blue Jackets were in their warm-up. Mark Letestu replace Atkinson, and when asked, coach John Tortorella was unable to provide any updates. However, even without Atkinson in the lineup, Tortorella was pleased with their performance stating,
"I thought our guys rallied together and played a good game."
His actions on the bench during the third period would suggest otherwise after being seen yelling after officials stopped the game after a shot from Zach Werenski hit Brandon Tanev in the back. While Tortorella refused to comment on the incident, Zack Werenski stated,
"We had them hemmed in for a while there and I thought they were pretty tired and (Tanev) makes a good block, but the puck comes right back to us. I think he starts getting up and they blow the whistle, so it's definitely a little frustrating. I know where the ref's coming from, he wants to make sure the player is OK. First and foremost, that's the most important thing, but I know where I hit him, right in the mid-to-low back, so you could kind of tell it wasn't anything up high, so it's definitely frustrating for us."
The Winnipeg will next play hosts to the Anaheim Ducks on Saturday, and with their current win streak, bettors will find excellent odds in favour of the Jets with top rated sports betting sites such as Bet365, who will welcome new punters with up to $200 in sign up bonuses.