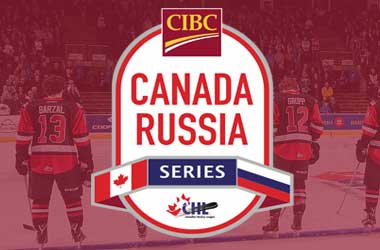 Hockey Canada released the list of names for its Western Hockey League (WHL) Team Roster that will take on Team Russia in the 2017 CIBC Canada Russia Series.
Hockey Canada worked with the Canadian Hockey League, WHL, Swift Current Broncos and Moose Jaw Warriors to finalize a roster of 66 names which has 23 players that are currently representing the 22 teams that are part of the WHL.
The roster of 66 players will be broken down in three teams featuring Team Canada Black, Team Canada White and Team Canada Red who will represent Canada at the U17 Hockey Challenge which takes place from November 5 to 11. Team Canada will compete against the United States, Finland, Sweden, Russia and the Czech Republic to see who will walk away with a gold medal.
In July 2017, 111 shortlisted hockey players were invited to be a part of a seven day U17 development camp that came under Hockey Canada's Program of Excellence. The players were carefully monitored and a group of talent scouts then made the final cut and reduced the squad to 66.
Regina Pats
In a statement, Brad McEwen, head scout for Hockey Canada said
There is a strong, talented, and skilled group of players to choose from and we feel the 66 we have selected are a great representation of the depth of Hockey Canada's Program of Excellence. These young men have demonstrated an ability to learn, grow, and develop while giving Canada the best chance at bringing home gold on Canadian ice.
The roster has a wealth of NHL prospects and features 13 players who were picked during the first two rounds of the NHL draft. Some of the exciting prospects that fans can keep an eye out for include Cody Glass, Michael Rasmussen, Brett Howden, Tyler Steenbergen and Kole Lind.
Team Canada has always paid special attention to The CIBC Canada Russia Series which commenced back in 2003. The series has always taken place before the IIHF World Junior Hockey Championship and helps Team Canada identify bright prospects that can be chosen for selection. Team Russia has grown very competitive during the past few seasons and that has helped bring out the best in Team Canada and its young group of players. Four out of the last seven series have gone down to the final game and Russian has won three series since 2010.