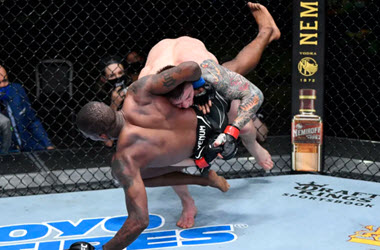 Kevin Holland and Marvin Vettori once again met in Las Vegas for the second time in three weeks, and once again, the result was the same, Vettori winning by unanimous decision. After defeating Holland three weeks earlier, Holland agreed to a rematch leaving him only nine days to prepare for the fight.
The rematch came to light after Darren Till, who was scheduled to fight Marvin Vettori on Saturday, suffered a broken collarbone. After Holland lost his last bout against Derek Brunson on the 20th, his agreeing to the fight entered him in the history books as the quickest turnaround in UFC main event promotion history.
The opening was good news for  Kevin Holland, who clearly was smarting from the five takedowns and loss to Brunson. However, he once again was ill prepared for what was to come after Vettori set a new UFC record in the middleweight division with eleven takedowns. Considering that equals all the takedowns in his entire career, that speaks for itself, with Vettori stating post-fight,
"I wanted to finish this guy and I wasn't able to, but it was a dominant win. … I'm not the happiest right now, but I keep winning. I keep progressing."
ESPN MMA
For fans watching the fight, some may have thought they were watching a replay after seeing Vettori repeatedly taking down Holland. Vettori came out on Saturday and was dominant from the get-go with the former welterweight champion taking down Holland in every round, with many of those resulting in Holland being kept down for extended periods.
By the third round, the referee called in the ringside physician to check Holland after he complained about not being able to see. While Holland continued the fight, it wasn't the right decision, not if you count the continued takedowns and punishment at the hands of Vettori.
Beyond a few flurries, Holland was all but a defender, and the result was a unanimous decision by all three ringside judges. The only thing missing from the fight was Holland's reputation for trash talking. In the lead up to his bout with Brunson, he was all talk and was even cocky enough between rounds to talk to UFC president Dana White and Khabib Nurmagomedov, who were both in attendance.
Vettori has now recorded five straight wins and is now 17-4-1. His only recorded loss since joining the UFC was against Israel Adesanya. At 27, he is ranked 8th in the middleweight division. After being crowned the winning, Vettori spoke about the win stating,
"I think I deserve it, I want this title, man."
For punters, the fight was important information they can rely on for upcoming fights. While neither Vettori nor Holland are scheduled for any upcoming bouts, UFC fans have plenty to look forward to when YouTube personality Jake Paul takes on Ben Askren on the 17th in Carson, Nevada.
Considering the hype and entertainment value, Canadian bookmakers have been quick to favour Paul, which is somewhat surprising considering Askren's experience in mixed martial arts. Still, our latest predictions for the Jake Paul vs Ben Askren fight will provide you with some insight into what analysts are predicting. With less than a week away, punters wanting in on the action have plenty of time to place their bets.