Jake Paul vs Ben Askren Odds: Latest Predictions & Indepth Analysis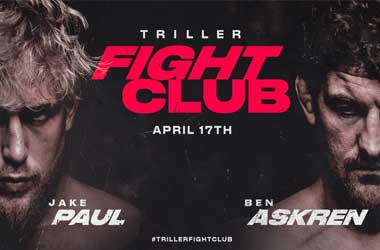 Enthusiasts of celebrity boxing will witness Jake Paul and former UFC fighter Ben Askren going head to head in an eight-round cruiserweight bout in Carson, Nevada on April 17th in Carson, Nevada.
While Jake Paul's older brother has won two fights, his brother will face a fighter who has earned wins on nineteen separate occasions. Adding to the challenges, this will mark the first time that YouTube personality, Jake Paul will box as a professional fighter.
Unfortunately for Jake Paul, his first foray into the sport is against a seasoned veteran, Ben Askren.
This doesn't mean that Askren is guaranteed to win against his younger opponent, as the prior UFC fighter experienced multiple injuries that resulted in a year-long sabbatical from mixed martial arts.
However, Askren sabbatical will not affect his abilities or fighting style. Askren is infamous for depending on his wrestling skills to defeat opponents. The former UFC fighter has a decade of experience to back that up although there is evidence suggesting that his striking capabilities are limited. As such, analysts aren't predicting Askren will face challenges and are slightly favouring Paul for the win.
Best Online Sportsbooks To Bet On Paul vs Askren Fight
The Paul brothers are known for controversy since the inception of their YouTube channel. Both have displayed behaviour that is immature and deemed repulsive by most viewers. The most infamous video created by the "Paul Brothers" saw them travel to Mount Fuji in Japan, where suicide runs rampant. The resultant backlash saw a lot of negative attention being directed to the brothers, and for many, it was surprising that either has been allowed into professional boxing, and it's a contributing factor towards Ben Askren committing to this fight.
Ben's legacy is shrouded in vengeance, with most fights revolving around a valid vendetta. That's the contributing element towards the Paul vs Askren fight, as for months, Paul has spoken poorly about countless MMA Fighters in the hope of garnering attention. That included targeting Connor McGregor, Jorge Masvidal, and Ben Askren. After agreeing to the fight, both men have trained diligently for their matchup, with insiders from Askren's training camp saying his striking abilities haven't ever been better. This could lead to results that bookmakers and analysts never anticipated.
FITE
Pound for Pound Analysis
* Odds have been provided by Betway Sports and are accurate as of 07/04/2021
Jake Paul
Odds to win: 1.85
YouTube has given rise to multiple online personalities that've committed less than honourable acts for views. That included Jake Paul and his brother, Logan, both of whom began generating popularity amongst younger adults that enjoy alcohol and other substances. While the "Paul Brothers" have had many controversies plaguing their YouTube channel, a career change saw both opting works towards professional boxing careers, in part due to monetary compensation awarded to fighters.
While this will be Paul's first professional fight, his first fight against Deji Al-Fakhri in 2019 resulted in a win. Paul also racked up a win against the NBA's Nate Robinson and that has fueled the fire in Paul to pursue a professional boxing career. It has resulted in the UFC agreeing to sponsor this fight and broadcast it via its streaming services.
For Ben Askren, he will have to deal with the younger Paul's age, stamina, speed, agility, and composure, all of which favour Jake Paul, and that has bookmakers giving Paul a slight advantage ahead of the fight.
Ben Askren
Odds to win: 1.95
Throughout his career, Ben Askren has competed in twenty-two mixed martial art fights. He's won nineteen of those matches, leading to an opportunity to wrestle in the Olympics before joining the Ultimate Fighting Championship. Ben Askren prefers grappling over striking and is known for working towards closing the distance before moving into a wrestling position. After getting his opponents to the floor, Askren had a reputation for elbow punchers versus genuine strikes. The UFC pitted Askren against multiple fighters stronger than himself for years until his last opponent of Jorge Masvidal defeated Ben into a one-year sabbatical.
Since going on sabbatical, Askren's time was spent recovering from the injuries he sustained during his fight against Jorge Masvidal. That puts Askren at a slight disadvantage that will require him to be aggressive with his striking and likewise if he hopes to succeed, take control over Paul with his superior wrestling skills.
Our Prediction: Jake Paul overcomes the ageing Ben Askren
When factoring in Ben Askren's and Jake Paul's recent histories, the faith behind a UFC former champion has dwindled. Subsequently, our opinion and support is divided, and while we believe Asken is the more qualified fighter, Paul's age will be a factor, and therefore, our prediction leans towards a victory for Jake Paul.