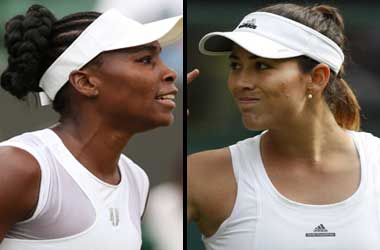 After nearly two weeks of grass court play, the last two ladies left standing at Wimbledon 2017 are 7 time grand slam winner Venus Williams and Venezuela's Garbine Muguruza. This is a great opportunity for Venus to get her hands on one more Wimbledon Championship as her sister Serena Williams has dominated center court for the last two years winning back to back championships.
This year Serena did not take part as she is pregnant with her first child and her absence has opened the door for a new ladies Wimbledon champion. Venus has been overshadowed by Serena for a number of years but this could be her chance to shine bright as she has the experience of playing a number of Grand Slam finals. She defeated the 6th seeded Joanna Konta in straight sets 6-4, 6-6 to book herself a place in the finals.
The 23 year old Muguruza made it to the finals after an impressive semi-final display against Magdaléna Rybáriková where she won 6-1, 6-1. Muguruza who is seeded 14th caused a major upset earlier in the tournament when she took out world number 1 Angelique Kerber. Muguruza will play her first Wimbledon final on Saturday and will be the underdog based on Venus's reputation but if Muguruza plays like she did in the semi's, she could win her first Wimbledon Championship.
The pressure will be on the 37 year old Venus Williams who is in the final stages of a splendid career and she will want to add to her trophy cabinet and finish on a high. Williams looks extremely fit and is moving well on the courts. Her best chance at winning Wimbledon will be to do it in straight sets and limit her number of unforced errors.
Muguruza will most likely be nervous when she steps on the center court on Saturday, given the fact that she is so close to her first Wimbledon Championship but at the end of the day, she has nothing to lose as the pressure is on Venus Williams. Muguruza won the French Open in 2016 defeating Serena Williams and if she defeats Venus Williams on Saturday, she would have a unique record of beating both sisters in different grand slam finals.
Muguruza stated in a post match interview that she was feeling calm and had better control of her emotions at Wimbledon. She also said that she loves playing on big courts and entering another grand slam final is a dream come true.
Wimbledon