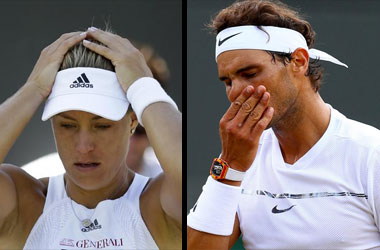 Germany's Angelique Kerber who is ranked number one on the WTA entered Wimbledon 2017 as the favourite and was expected to go all the way, especially because Serena Williams wasn't playing since she is busy having a baby.
Kerber faced Garbine Muguruza on Monday and started well winning the first set 4-6 but Muguruza bounced back to take the next two sets 6-4, 6-4 and in the process knocked Kerber out.
Rafael Nadal hasn't made it to the quarter-finals at Wimbledon since 2011 but after winning the 2017 French Open, fans were once again backing Nadal to do well at Wimbledon. The 4th seeded Nadal took on Gilles Muller who was seeded 16th and the crowd was treated to one of the most entertaining matches of the 2017 edition.
It turned out to be an epic five setter and in the end it was Muller who was able to steal a stunning victory over Nadal. The final scoreline read 6-3, 6-4, 3-6, 4-6, 15-13 and will now see Muller take on the 7th seeded Marin Čilić in the quarter-final. Nadal's game does not really favour the grass courts at Wimbledon but his grit and heart has what has made him popular at Wimbledon for all these years.
Wimbledon
In a statement, Rafael Nadal said
I think I didn't play my best the first two sets. I make a couple mistakes that make me then play all the time against the score. And that's so difficult against a player like him. So well done for him. He played well. Especially in the fifth, he played great game. I was there, and fought until the last ball, with the right attitude. Probably was not my best match, but at the same time I played against a very uncomfortable opponent
Kerber hasn't looked or played like the World Number 1 in 2017 and her loss at Wimbledon means she will no longer be the World Number 1. However Kerber was happy with her performance and said that even though she lost, she had played one of her best matches in a long time.
Venus Williams is now one of the favourites in the women's division and will take on 13th seeded Jeļena Ostapenko in her quarter-final match. The men's division is still stacked with a number of top players. Roger Federer and Andy Murray are clearly the favourites and they will have to win their respective quarter-final matches against Milos Raonic and Sam Querrey to make it to yet another semi-final at Wimbledon.