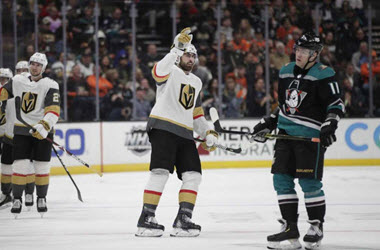 Marc-Andre Fleury earned his 7th shutout of the season last night after the Vegas Knights went on to defeat the Anaheim Ducks. Considering no other goalie this season has played more games, and Fleury hardly seems to be letting it show.
At 34, Fleury managed to stop 34 shots last night as the Knights won 3-0. Commenting on the occasion, Fleury, with 31 wins this season said,
"My teammates helped me out blocking shots and taking rebounds away. It was a good team win."
Last night's shutout was Fleury's 55th and his 11th while playing for the Vegas Nights. Two of those have come while playing against the Anaheim Ducks. Vegas Knights coach, Gerard Gallant commented on the game saying,
"We played good all night and Fleury was excellent. They didn't have a whole lot of good chances but when they did he made some great saves."
For his part, Fleury said he does not feel tired after playing as many games as he has. So far this season, he has minded the net in all but eleven games. However it is expected that leading up to the post-season, his time in net will be monitored to ensure he is in peak condition. Fleury spoke on the workload stating that he feels fine, that the work schedule is less at the moment and that they will go with the flow and try to stay healthy.
Sportsnet
Cody Eakin, Alex Tuch and William Karlsson scored for Vegas, while Pierre-Edouard Bellemare, Ryan Carpenter, Jonathan Marchessault, Mark Stone and Shea Theodore earned assists. The Knights are in the midst of their longest winning streak since going seven games in a row in December and January. However, the Golden Knights are sitting in third place in the Pacific Division behind the San Jose Sharks. Alex Tuch remains impressed with Fleury stating that the win was awesome. He added,
"The amount of times he shuts a team out is phenomenal. It gives us energy. He's probably the biggest part of our team's success right now."
Anaheim's John Gibson, in his first game back after dealing with a concussion, had 31 saves last night. The injury that saw him concussed also resulted in Gibson having to deal with his wisdom teeth and their removal. The ducks, who have lost their last five and only won three of their last ten games are clearly struggling. Nick Ritchie of the Anaheim Ducks commented on the bad run saying,
"We're out-chancing a lot of teams, so the stats say. We're just not scoring, and other teams are scoring timely goals against us."
As the post-season heats up and teams are shuffling hoping to better their position, many punters are faced with the difficult task in finding respected sportsbooks favourable for Canadians. Betting.ca has a list of six top ranked sportsbooks, all recommended, licensed and ready to reward you with generous signup bonuses. Register today in time for the Vegas Knights next game against the Vancouver Canucks to claim your bonus.