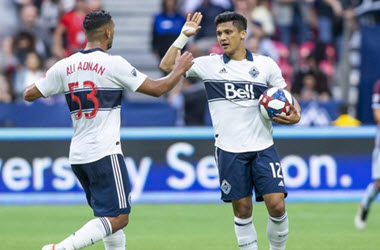 Vancouver's Fredy Montero saved the day to lead the Whitecaps to a 1-1 tie with the Columbus Crew on Saturday at the 94th minute mark at B.C Place in Vancouver.
This is the second week in a row that Freddy Montero, a Columbian native has saved the day. He pulled off another big goal last week in the Whitecaps 2-1 win against the Houston Dynamo. Speaking on the goal, Montero who joined the game at the 61st minute mark said,
"That's soccer. During my whole career I learned you need to keep working. I'm the type of forward that I need to go into the box. That's where I can show my best. The last two games there was only one play each game where I felt confident enough to score those goals."
Vancouver was trailing the Columbus Crew 1-0 after an early penalty kick goal at the 17th minute mark by Gyasi Zardes, and it looked like the Crew would earn the win at the clocked ticked. However, as extra time began, Ali Adnan, who plays left back sent a cross shot in front of the net that Fredy Montero capitalised with by sending a header past Columbus goalkeeper Zac MacMath.
That play saw the crowds erupt in joy and the Crew looking on in disbelief. The goal was Montero's eight of the season and a welcome one considering he went scoreless for 12 games prior to scoring during their match against Houston. Commenting on the season so far and being eliminated from the playoffs, Montero stated,
"There have been highs and lows. We need to continue believing in the process and knowing the Whitecaps next year have to come with a different mentality and different approach in the game. I'm not going to lie, it's a different type of energy, but at the same time if you don't prepare mentally for this type of game you set yourself up to get injured. I told my teammates . . . we have to be professional. We come every day and practice to win a game, not tie or lose."
Marc Dos Santos, coach for Vancouver, stated he felt the team did not deserve to lose on Saturday and that they just got the goal late. Columbus, who are six points behind the New England Revolution, have only suffered one loss in the last eleven games they have played, but the tie hurt their chances at an MLS Eastern Conference playoff spot Speaking on the season the loss, Caleb Porter, coach for the Columbus Crew stated,
"The season was on the line (with) 10 seconds to go, just put the ball in the stands. There are simple things that you have to do to win games, and we do the wrong things and it costs us the season. If we could see a game out this year we'd be in the playoffs."
Yet, it seems that Vancouver are at peace with being the team to spoil the hopes of those they play of late. Houston's loss to Vancouver last week hurt their chances as well, and for Montero, he believes that they can win adding,
"I believe no matter who the team is we are playing against, we have to have the mentality we are going to do the best to win. I'm sorry if we win and they are out of the playoffs. It's a game. That's part of life."