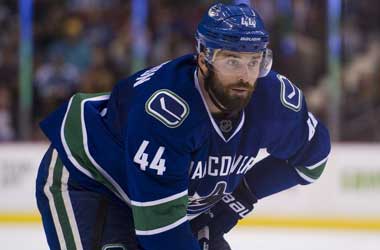 The Vancouver Canucks are making moves as the trade deadline approaches, and have signed Erik Gudbranson to an extension that will see Gudbranson paid $4 million a year and remain with the Canucks for three more years.
Said Gudbranson on the extension, prior to hitting the ice for morning practice in preparation for Tuesday night's game against the Colorado Avalanche,
"It took a little while, got into crunch time, but I am very happy today"
For Gudbranson, the deal had importance and signing a multi-year contract was high on his list as previous contracts were all one season deals.
Commenting, he stated,
"I have been on three straight contract years so having a little stability is huge for me and my family. From the get-go it was a three-year deal. I knew that is kind of what I was in the ballpark for. They came at me with that, so it ended up being a good deal. I think it works for both sides."
The end of the season was going to see Gudbranson an unrestricted free agent and free to consider all offers that came his way. Clearly the Canucks wanted him to stay in Vancouver as the team is in the midst of rebuilding and being close the bottom of league in standings, there was some who debated on whether Gudbranson, who hails from Ottawa, Canada should remain with the team or trade him for another top prospect or choices in future drafts.
Canucks TV
Travis Green, head coach of the Canucks and Eric Gudbranson had a lengthy talk recently about the team's future and how the team can improve. Gudbranson mentioned that the talk was positive and that he has a solid understanding on the direction the team is moving towards and that their direction and his were on the same page with where the team needs to be in a few years.
He added,
"It's an exciting task to be in a group like this and be able to grow with is so I am very fortunate to be here."
For Travis Green, he said that Gudbranson is a solid player who is physical and makes things difficult for other players. He added that he feels many of the league's top players do not enjoy playing against him and that the coaching staff feel that they have yet to see the best of Gudbranson.
Gudbranson agreed and believes there is room for him to improve stating,
"I can get better, there is a lot of work to be done. I'm still a sponge like I was when I was 19-20 years old, trying to pick guys brains and use the vets to my advantage. I don't know what the ceiling is. I don't think anyone really knows but I am just trying to get better every single day and that's my motivation."
Jim Benning, general manager of the Canucks, feels that Gudbranson is part of the puzzle for the Canucks as they rebuild. He believes that he is an important member of the team that gives plenty of physical aspects to their blueline as a defenseman. He also lamented that Gudbranson is strong in a leadership role as they bring in younger players to the lineup.
Benning stated,
""He is a quality person, a great teammate, outstanding in the community and we are excited to have him as part of our team moving forward."
In 2010, the Florida Panthers chose Gudbranson third overall in the draft. In 2016 he was traded to Vancouver in a deal that saw Jaren McCann going to Florida in exchange for Gudbranson. This season he has played forty-one games and scored two goals. In his seven years in the NHL, he has racked up 14 goal and 39 assists in 380 games.
As the NHL trade deadline approaches, it is one of those times that hockey sportsbetting sites begin to look at those that will be traded or will be entering unrestricted status in the coming months ahead. This is when odds are set, selections are considered and for sports betting punters, the perfect time to get their bets in on future trades.