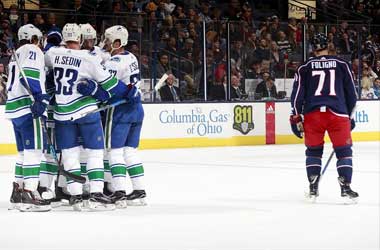 The Vancouver Canucks, as a team, has been struggling with winning, let alone scoring, but Friday night's game 5-2 win against the Columbus Bluejackets saw the team do both and bringing an end to a losing streak that saw the team go five games without a win.
In the last four games, Vancouver managed only five goals but tonight succeeded in scoring four times in the 2nd period. When you consider their last win came in November, tonight's National Hockey League victory was much needed.
Vancouver has been suffering due to a number of injuries, and tonight saw Sven Baertschi returning after being on the injured list for the last month due to a broken jaw. Baertschi didn't waste time getting into the action and was in the right place during the 2nd period when Thomas Vanek passed the puck to Baertschi who then scored and tied the game.
Sergei Bobrovsky, the Bluejackets goaltender, was in the crosshairs of Vancouver's Erik Gudbranson sent a shot from 45 feet out to give the Canucks a 2-1 lead. Brendan Gaunce then found himself in a two-on-one breakaway and made it 3-1. This was no ordinary goal as Gaunce, who has only scored twice in his HNL career saw his stick snap as he took the shot. If that was not enough action in the second period, the Canucks Alexander Edler managed to bank a shot off Markus Nutivaara to give the Canucks a 4-1 lead.
NHL
It seemed that the gods were on the Canucks side when you consider two goals were scored by Erik Gudbranson and Brendan Gaunce, who both have not scored many goals in their careers, and this made it quite the night for the Canucks. Vancouver is sitting with 17 wins, 21 losses, 6 overtime losses this season and are almost in last place in the Western Conference Pacific Division.
The Bluejackets started the scoring in the first period with a power-play goal at the 4.33 mark. That was all the action that Columbus would garner until the third period when Scott Harrington managed to make it through traffic and got a shot past Jacob Markstrom making the game 4-2, however, the Canucks Jake Virtanen responded scoring the team's fifth goal and bring the third period to an end.
Markstrom, however, had twenty-seven saves for the night and recorded his first win since the 28th of December. The Canucks have one game remaining on their five-game road trip and will visit St. Paul, Minnesota to play the Minnesota Wild on Sunday.
While the playoffs are still far away, bettors will have more than enough time to evaluate Vancouver and how the team can impact their betting strategy with legal British Columbia sportsbooks. Whether tonight's win will be a sign of good fortune for the struggling club will be seen, if not, the playoffs will not look promising.