British Columbia Sports Betting [ 2023 ]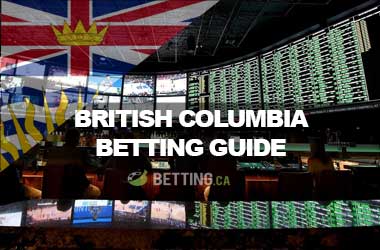 The sports betting industry is a multi-million dollar industry, which makes it popular throughout the world.
One region where it is also popular is British Columbia, a province with rapid industrial growth. But, just like in the rest of Canada, here too legal issues in regards to gambling cloud the situation regarding online betting.
Despite that, British Columbia citizens have lots of options to gamble and bet on sports.
We have looked closely into the matter concerning the betting opportunities from within British Columbia as well as the legality, and we bring you this guide about sports betting in one of Canada's most beautiful territories.
Sports Betting in British Columbia
People in British Columbia can bet on sports online and offline. When it comes to online, they have two choices. Betting using PlayNow, the only Canadian-based sports betting website in British Columbia run by the agency responsible for the regulation of gambling. Or, betting using the many off-shore sports betting websites, which are also legal and many of them are recommended because they are licensed in reputable licensing jurisdictions over the world.
When it comes to PlayNow betting, here are the options:
Oddset outcome – Oddset-3 and Oddset-2 outcomes are betting opportunities for parley bets. Players can make up to six selections and choose which of the teams will win or tie. You can bet up to $100 and in order to win an Oddset Outcome bet, all predictions must come through.
Point Spread – Point Spread bets are also parleys where up to 12 selections are allowed.
Over/Under – Over/Under parleys allow up to 10 selections where you get to predict if there will be more or less goals or points in a given game.
Toto and Props – These betting games include a prize pool which is either won by a single winner or shared among several winners.
There are several issues with PlayNow betting in British Columbia that come mainly from the restrictions imposed. For example, you are limited on the parley size or your bet size. The most annoying issue for passionate bettors is the restriction on betting on single games. So, except for parleys, where you have to choose more than 1 game, there is no possibility to bet on a single game.
This is where the off-shore non-BC online sports betting websites come to rescue the day. These offer a lot more betting opportunities, better odds, higher bet limits and of course, the possibility to bet on single games as much as you want. Also, your PlayNow winnings are subjected to taxes.
Recommended Canadian Sports Betting Sites In British Columbia
Gambling Laws in British Columbia
The law that governs all gambling activities in British Columbia is the Gaming Control Act of 2002. From a bettor's point of view, this law does not forbid players from betting online at a sports betting website that is not based in Canada. The only thing that is illegal is to bet with the help of unlicensed betting houses. However, since the off-shore betting websites that British Columbia bettors use are licensed, experts don't see any problem concerning their legality. As a result, there has never been a case where a player from British Columbia has been prosecuted for gambling online. Unless anything changes for the worse, there never will be such a case.
Licensing Authorities in British Columbia
There is one government agency that regulates land-based casinos, sports betting operators, electronic gaming and slots, bingo and ticket lotteries in British Columbia. It is the British Columbia Lottery and Gaming Corporation.
According to the BCLC, gambling and sports betting are legal only for those that are 19 or older. Under the Gaming Control Act, the BCLC ensures the integrity of the suppliers and companies in the gaming industry and conducts investigations in cases where the law has been broken.
The agency also cares for social responsibility and the risks that come from overindulging which results in developing a gambling problem. The agency has provided numerous responsible gambling programs and has raised more than $19 billion since 1985 to help the communities, education and health care.
The population of British Columbia
British Columbia is diverse in both natural resources and demographics. According to the last census from 2011, there is a population of 4,400,057 largely protestant and catholic. There are 44 different ethnic groups, the biggest being of English origin, and the smallest of Belgian. Other bigger ethnic groups are the Scottish, Canadian, Irish, German, Chinese, French etc. The smallest are the Belgian, Punjabi, Croatian, Czech, Greek and Icelandic.
Offline Betting Venues in British Columbia
British Columbia is "rich" with offline betting venues where players can relax and spend their money for fun. These are some of the biggest and most popular currently:
River Rock Casino
Hard Rock Casino
Cascades Casino
Casino of the Rockies
Cascades Casino Kamloops
Hastings Park Racecourse
Lake City Casino
Fraser Downs Racetrack & Casino
If you are planning on going to one of these, the River Rock Casino Resort is one of the best ones. You will love the spa at River Rock, and there is also a pool and recreation opportunities. It's open 24/7 with more than 1000 machines and more than 100 tables.
Conclusion
Although British Columbia offers its citizens the ability to bet online via the BCLC-regulated PlayNow sports betting website, we assume that you will be looking for something more. If you are planning on registering at off-shore sports betting websites, we want to give you some pointers on how to choose the best one.
There are several factors that you need to consider, but the first and foremost is to choose a reputable operator. It is the only way to ensure that you will be getting quality service. The operator you are considering needs to have a good reputation in regards to customer support, payouts and odds. Everything else like the size of bonuses, promotions and such can be relative.