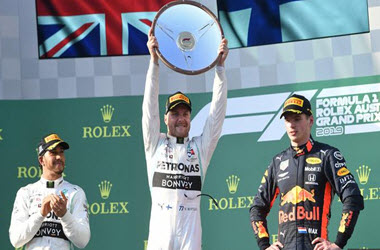 Valterri Bottas won the inaugural F1 race of the 2019 season but seemed at a loss of words to explain how he pulled off the win over teammate Lewis Hamilton after not winning a single race last season.
The win and second place finish of Hamilton puts Mercedes again out front as the season gets underway, a familiar site that many are hoping will change. The winter break saw Valterri Bottas entering some rally car events, and it seemed to have transformed the Finn into a more focused driver with results already being produced.
At 29,  Bottas went ahead of Hamilton after starting in the N0. 2 spot on the grid passed Hamilton going into the first corner. He maintained his lead throughout the race finishing ahead of Hamilton by nearly 21 seconds to earn his fourth F1 career win title. This was his first win since 2017, and as a bonus, he earned an extra point for having the fastest lap of the race collecting 26 points total. Commenting, Bottas said,
"It was definitely my best race ever. It felt so good. Truly enjoyed it."
Autosport
Bottas has expressed that the track at Albert Park is one of the circuits he prefers the least. Previous races have not been kind to the Finnish driver having started 10th last year. His best finish prior to Sunday's win was third in 2017. Bottas mentioned, in post-race interviews that,
"Definitely, it's a new rule for this year. I had really strong pace, I wanted to go for that in the end."
Hamilton struggled to maintain second with Max Verstappen closely behind by 1.634 seconds, but the story of the day was the Ferraris fighting to stay in contention with the Mercedes after being the fastest during winter testing. Sebastian Vettel ended up finishing fourth just ahead of his teammate, Charles Leclerc. Commenting on the race, Verstappen said,
"I had to beat Seb to get onto the podium, which is not easy around here. Happy to pull that move off — then challenging for second. To start the season on the podium, challenging the Mercedes in front of me, it's a really good start to the season."
Ferrari's Vettel, a four time champion is a worry when you consider he was 35 seconds behind Red Bull's Verstappen. That was not helped by having Kevin Magnussen and Nico Hulkenberg pushing hard in the background. For Hamilton, who earned his 6th pole in Australia has to make do with second place. Speaking to the media post-race, Hamilton, who has won pole in Australia eight times said,
"It was a good weekend for Mercedes. Valtteri drove an incredible race today. Really deserved it."
The race saw several drivers retiring including Daniel Ricciardo. The hometown favourite found trouble shortly after the start of the race while trying to pass traffic going into the first corner costing him his front wing. Bottas, who placed fifth in the driver standings last season, which was a result of multiple mechanical retirements and instructions from the team prevented him from winning last season. However, it seems with a new season those instructions to concede to Hamilton are gone. Commenting, Bottas said,
"We're all here starting a new season. Both me and Lewis will want to fight this season, for sure, against each other, and against everyone."
The Formula 1 season will next pay a visit to Bahrain for the Bahrain Grand Prix, and will then move on to the Heineken Chines Grand Prix in April. Interested in placing bets on future F1 events, register with one our preferred sportsbooks and claim a generous signup bonus today!