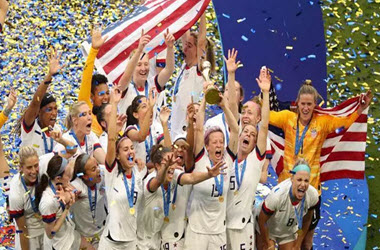 The United States Women's National team have won their fourth World Cup title, their second in a row, after their 2-0 defeat over the Netherlands on Sunday. It was a night that that saw Megan Rapinoe scoring a second half goal after being awarded a penalty kick.
Rapinoe, who is the teams' captain, sported pick hair was high in demand on the field and off after scoring at the 61st minute mark after being chosen to take a penalty kick. That kick was awarded to the U.S team after a video review showed the Alex Morgan was fouled by Stefanie van der Gragt she kicked Morgan in the shoulder while in the penalty area.
Rapinoe, who had just celebrated turning 34 two days earlier, lined up for the kick and sent it past the Netherlands Sari van Veenendaal to earn her sixth of the tournament. Rapinoe also became the World Cup's oldest player to score in a final. Commenting, Rapinoe said,
"It's surreal. I don't know how to feel like now. It's ridiculous. We're crazy and that's what makes us so special. We just have no quit in us. We're so tight, and we'll do anything to win."
The U.S's other goal was scored by Rose Lavelle, who at 24, is considering the U.S teams up and coming player. It was her third goal for the tournament, one she produced after shooting the ball from 18 feet out beating Sari van Veenendaal and giving the U.S a 2-0 lead. Team captain Megan Rapinoe commented that Lavelle is a superstar, one not in the making, but already there.
A HUGE moment for @roselavelle and the @USWNT! #LaGrandeFinale | #USANED🇺🇸🇳🇱 pic.twitter.com/oLaTt7iwvg

— FIFA Women's World Cup (@FIFAWWC) July 7, 2019
Fans in attendance donned in red, white and blue as the final whistle blew began chanting "Equal Pay!" This was in reference to the U.S. Soccer Federation being sued by players over gender discrimination. Rapinoe, never one to shy away from controversy, saw U.S President Trump getting hurt over her statement that she and her teammates would not attend the White House as a result of their issues over gender equality. However, Trump being upset did little to dissuade others to welcome the team with Bill de Blasio, mayor of New York City, inviting the team to a parade on Wednesday up Manhattan's Canyon on Heroes.
The U.S team were flawless throughout the tournament never once going down a game and in doing so set scoring records and increasing their World Cup winning streak to 12 games. One of those impressed was Coach Jill Ellis, who joined the record books as the only one ever to lead a team to back-to-back World Cup titles. Ellis, in speaking about the team stated,
"It's just chemistry. They put their hearts and soul into this journey," They made history."
🏆 C H A M P I O N S 🏆 @USWNT 👏👏👏

Highlights 👉 https://t.co/M5OavEvdZU
TV listings 👉 https://t.co/t64sDOEs52 pic.twitter.com/zdVnUuRCj7

— FIFA Women's World Cup (@FIFAWWC) July 7, 2019
Gianni Infantino, president of FIFA, awarded the U.S team the trophy. This was a big change over the last World Cup when then president Sepp Blatter was absent over his being investigated for corruption by U.S. prosecutors. The U.S team have set the standard when it comes to excellence, despite claims their confidence bordered on arrogant.
The United States have won Women World Cup titles in 1991,1999, 2015 and 2018 and in doing so, have set the tone for other nations to follow. In its previous matches, the United States has scored in the first twelve minutes, but Netherlands put up a strong fight preventing the U.S defensively and keeping the final scoreless in the first half. The second half was looking a lot like the first until Stefanie van der Gragt fouled Alex Morgan.
Rapinoe was absent from the U.S semifinal match against England last week due to a hamstring injury but her return for the final was welcomed by the crowds and supporters. It was her 158th appearance internationally and her goal was her 50th. After leaving the field at the 79th minute mark, crowds rose in a standing ovation at the Stade de Lyon, and that included French President Emmanuel Macron.