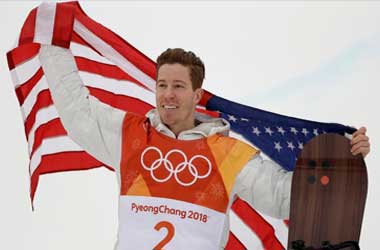 America's Shaun White has won his third Olympic gold medal in the men's halfpipe competition, beating Ayumu Hirano of Japan in a flawless final run. White was able to pull off what some thought impossible given his age and the younger competitors, yet with his perfect final run, he saw his score of 97.75 put him in first and earn him the gold medal.
Japan's Ayumu Hirano placed second earning him a silver medal, and America's Scotty James, who put all he had into a final run with hopes of improving his final score, but fell as he neared the bottom of the halfpipe took home the bronze medal.
White has won gold in the last three Winter Olympic Games, the first in Torino in 2006 and the second in Vancouver in 2010. He failed in Sochi to make the podium, and his win today gave U.S.A their 100th Winter Games medal.
White was trailing Ayumu going into the final but executed a perfect final with 1440 degree spins on what clearly was a do-or-go-down trying run. When the score was announced, White tossed his board into the air and was in tears of jubilation.
Ayumu Hirano, who was ahead 95.25 over White's 94.25 looked strong going into the final after seeing Scotty James fall during his last attempt at the halfpipe. However, with Whites near perfect score, it saw an end to Japan's hopes of winning the Men's halfpipe gold.
Shaun White is the first U.S.A male athlete to win a gold medal in three separate Olympic Winter Games. The only other American to achieve this was Bonnie Blair, who saw gold medal victories in the 1988, 92 and 94 Winter Games for speed skating.
💯 chances taken.
💯 life-changing moments.
💯 dreams come true.

100 USA GOLD MEDALS.
🥇 https://t.co/Yzd8QC2UdM pic.twitter.com/4WWLfqxTgu

— U.S. Olympic Team (@TeamUSA) February 14, 2018
— U.S. Olympic Team (@TeamUSA) February 14, 2018
In Other Olympic News
Men's Olympic curling got underway today with Canada beating Italy 5-3 on the first day of the tournament. Kevin Koe came out strong scoring a deuce during the eight end bringing an end to the 2-2 tie. However, Italy responded and managed to score in the ninth. Koe remained focused and scored twice more to give Canada the victory. With one curling medal already won by Canadian athletes Kaitlyn Lawes and John Morris, it is hopeful that Canada will continue to dominate and add to its Olympic medal totals.
Canada will now face Britain on Wednesday at 6 pm. The teams that place in the top four will advance to the semi-finals in the ten-nation tournament. As Canada is favoured to win, expectations will be high during the second draw.
The Women's Slalom has been postponed again due to high winds. This is the third time that an alpine event has had to be cancelled due to extreme winds. Monday's giant slalom was cancelled and re-scheduled for Thursday. The Women's Slalom has been re-scheduled, weather permitting for Friday.
The men's downhill event, which is one of eleven, was to open to the skiing competition in South Korea on Sunday. However, it too was re-scheduled due to weather for Thursday as well as weather forecasts are predicting calmer conditions. Now that the Women's Slalom is slated for Friday, it will see two days of back-to-back competition.