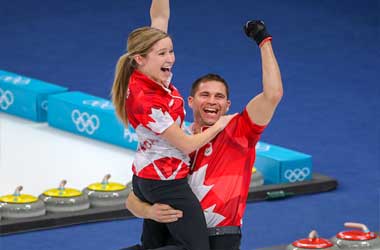 John Morris and Kaitlyn Lawes took home gold in last nights mixed doubles curling competition in Pyeongchang beating Switzerland 10-6. Morris and Lawes are both already gold medal winners in the men and women's events, and now have added to that in the inaugural mixed curling competition
Morris was originally to partner with Rachel Homan, he instead, after she placed first in the women's curling trials, chose to partner with Lawes. The trials for the mixed doubles was a slow start for the duo with their opening game not going as planned and taking a loss to Norway. However, from there on, it was all Lawes and Morris who won against Switzerland in the preliminary round.
Morris and Lawes took control of the game right from the start and were in a good position to win the gold medal and had only one rock remaining in the fourth round when Switzerland's Perrot hit two rocks with her final throw but Lawes rallied back to put Canada ahead 6-2.
Rios and Perrot managed to call it in the 6th and were one point lying four. However, Morris sent a shot that added heat and Rios missed the chance pushing Canada's rock closer to the point allowing Lawes the chance for a steal with her last shot. The result saw Canada ahead 10-3 and winning the gold medal.
Canada has a steeped history in Olympic curling having won a medal in every competition since curling became an Olympic sport in 1998. Canada has, to date, won five gold medals, three silver medals and two bronze medals in the Olympics.
As for Morris, he won gold while acting as skip in the 2010 Olympic Games in Vancouver, and Lawes won on the team of Jennifer Jones when they won gold in Sochi.
Men's and women's round robin curling gets underway tomorrow with events scheduled through to the 22nd. The finals will be played on the 23rd, 24th with the gold medal game on the 25th. As the Olympics heat up, expectations for Canada to win additional medals in the curling competition is high, it also is a ripe opportunity to support Canadian athletes via social media and sportsbetting sites offering betting odds on upcoming curling competitions.
Bronze Medal won by Alex Gough in women's luge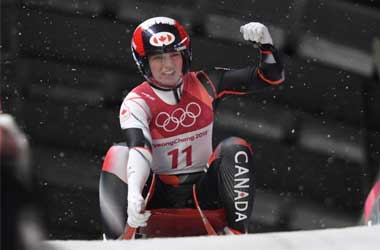 Alex Gough has added to Canada's total medal count with her bronze medal finish in the women's luge singles. Finishing with a combined total run time of 3 minutes, 5.64 seconds, it is Gough's fourth Olympic games and her first Olympic medal.
The gold medal went to Germany's Natalie Geisenberger, her second Olympic gold with her combined total run time of three minutes, 5.23 seconds, and silver went to Germany's Tatjana Huefner for her total of three minutes, 5.59 second run time.
This was the second consecutive Olympic Games that saw Germany dominating the Ladies single Luge event.