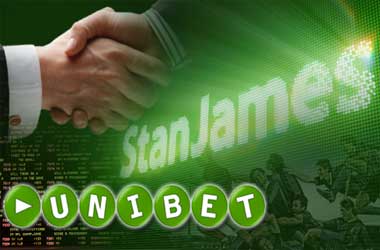 The online betting operator, Unibet has acquired Gibraltar Betting firm, Stan James for £19 million and the acquisition includes ownership of the Stan James name.
The acquisition deal puts Unibet's operations in a favorable position in the UK market and this also allows Stan James to focus separately on its sports betting. Unibet will continue maintaining the Stan James name across its online casino operations but Stan James will now be utilizing Unibet's gaming library. In short, all that has changed is the gaming providers of the casino.
Denis Kelly, the CEO of Stan James commented on the deal,
We are happy to have joined Unibet and this will create more opportunities for Unibet to penetrate into the UK market following the re-regulation. Unibet is well equipped in marketing as well as finance and together with Stan James offering high quality sports and racing betting, it is quite certain that the Groups market share in UK will increase.
The acquisition deal was settled in cash and will be adjusted when Unibet takes over customer liabilities upon completion. Stan James has an approximate 150 employees based in Gibraltar and will transfer their employment services to Unibet as per EU rules on the acquisition of a business.